As crucial as it is to monitor your SEO efforts, doing it manually can take a lot of time and resources. That's why, sometimes, it can be wise to leave some of the heavy lifting to SEO audit tools designed to automate tedious tasks. With them, you can save precious hours in the day!
However, I know that finding the perfect tool for your website is no easy feat. There are dozens upon dozens available out there, and each one promises to be the greatest. That's why I decided to compile a list of the 20 best SEO audit tools for you to choose from! There's a mix of free tools with paid features and paid ones with free trials, so you can pick the one that best adapts to your budget and needs.
Now, without further ado, let's jump right in!
Why You Need an SEO Audit Tool
Before I begin listing the best SEO audit tools, I want to focus on why you might need one.
These tools allow you to see your website the way Google sees it, so you can detect any problems that may potentially affect your ranking in the SERPs.
Any good audit tool will thoroughly assess all elements that play a part in your website's ranking, from its content and structure to off-page factors such as backlinks and domain authority.
Additionally, you might know already that Google tweaks its algorithm about 500 times per year. At that pace, it's impossible for any of us to keep up with the changes and also stay on top of any SEO issues that a website may have. In the long run, choosing an audit tool is an investment that'll take a weight off your shoulders and save up a lot of time and resources!
The Best Free SEO Audit Tools
It's time for the fun part! Here's my list of the best free audit tools (as I mentioned earlier, remember that some of them offer paid plans to get upgrades and more comprehensive features).
1. Google Search Console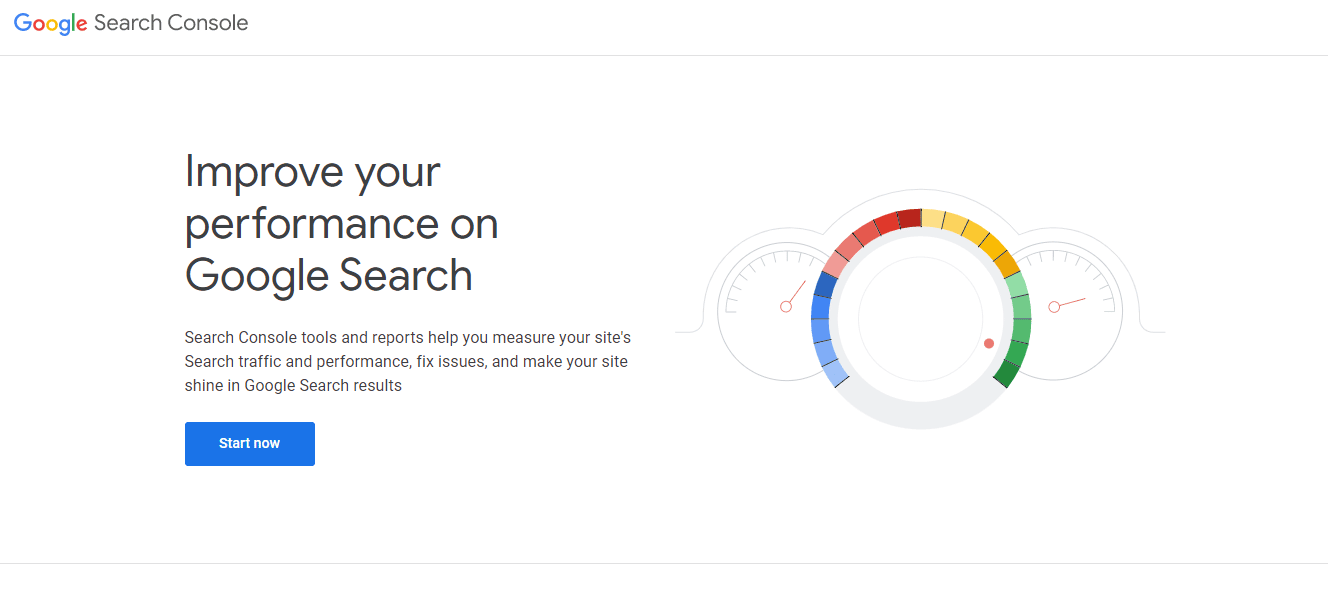 Google Search Console is the search engine's very own free SEO audit tool that's perfect for beginners. You can get an overview of your website's performance that includes clicks, impressions, and search engine rankings, in addition to examining page load speed, broken links, HTML data, and more.
Pros: You can set up automated email notifications to immediately let you know about any site issues, in addition to alerts about indexing failures and 404 and 500 errors. It also includes Core Web Vitals reports, a URL inspection feature, and a Mobile Usability report to know whether your website is mobile-friendly.
Cons: Some users report it's hard to recrawl URLs using the inspection tool, and that it tends to show only some backlinks to each page —not all.
Pricing: This audit tool is completely free!
2. SEO PowerSuite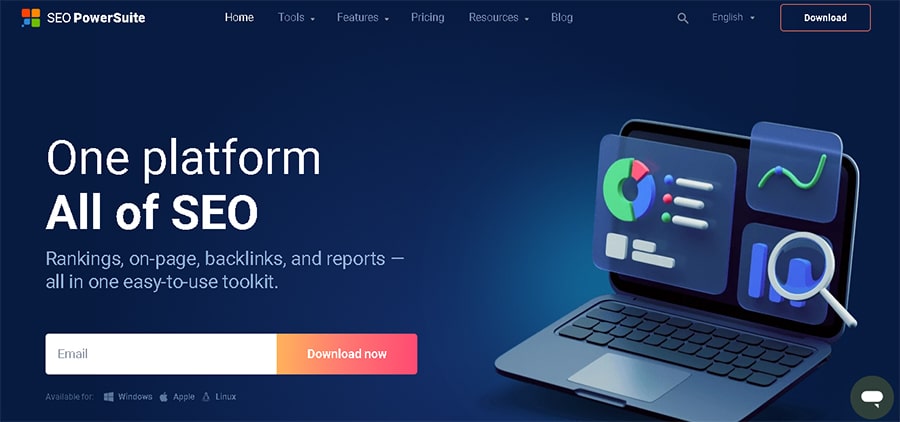 SEO PowerSuit's free version is quite comprehensive. Their toolkit is made up of four tools that cover every aspect of SEO: a Website Auditor, SEO SpyGlass (a backlink research tool), Rank Tracker, and LinkAssistant (made for link building and management).
Pros: All their versions include local and global SEO, keyword research, competition analysis, social media stats, content and HTML optimization, backlink research and audit, and more. Additionally, the free version has an unlimited number of keywords you can track!
Cons: The free version allows only one rank tracking for competitors, and link management is limited to 50 links per project.
Pricing: While their free version is already very generous, they also offer even more complete plans for $299/year for professionals and $499/year for enterprises.
3. Seobility

This free SEO audit tool lets you analyze your website by simply entering your URL, and it will also give you tips for optimal optimization. You can also set up email alerts, monitor your keywords, and get an SEO score.
Pros: Seobility finds technical and server errors in your website, analyzes your meta information, suggests optimization tips for better speed and quality, and also gives personalized link structure improvements.
Cons: According to their website, the free version is best suited for newbies and hobbyists, while small and mid-size businesses should opt for the paid premium version for better capabilities instead.
Pricing: In addition to their free plan, they also offer a Premium plan that costs $50 a month and includes a 14-day free trial, and an Agency plan for large companies for $200 a month.
4. SEO Spider

SEO Spider isn't a cloud-based SEO audit tool, but rather an installable software. It's quite intuitive and easy to navigate and can scan websites of all sizes and show you the results in real-time.
Pros: The tool crawls your site and finds any broken links, errors, and faulty redirects, in addition to analyzing your titles and metadata. It also gives you information about site visualizations and discovers exact duplicate pages (near-duplicates are a paid feature, though).
Cons: The free version has a crawl limit of 500 URLs, and you might miss out on some great features like spelling and grammar checks and free technical support.
Pricing: If you want a more thorough toolkit than what the free version offers, you can get a yearly plan for $259.
5. Hubspot's Website Grader
The Website Grader is quite simple: just enter your website's URL to get a report card with actionable insights about your SEO performance. Additionally, you can sign up for HubSpot's free SEO course to learn how to better improve your efforts.
Pros: This audit tool allows you to discover your site's performance and analyze mobile experience, identify specific issues, and get clear and practical feedback to know how to improve your website's overall health.
Cons: While the Website Grader is a great starting point, it doesn't give enough information to dive deep into any potential issues you may have, so you might need to complement it with another tool.
Pricing: This SEO audit tool doesn't offer any paid plans.
6. UpCity's SEO Report Card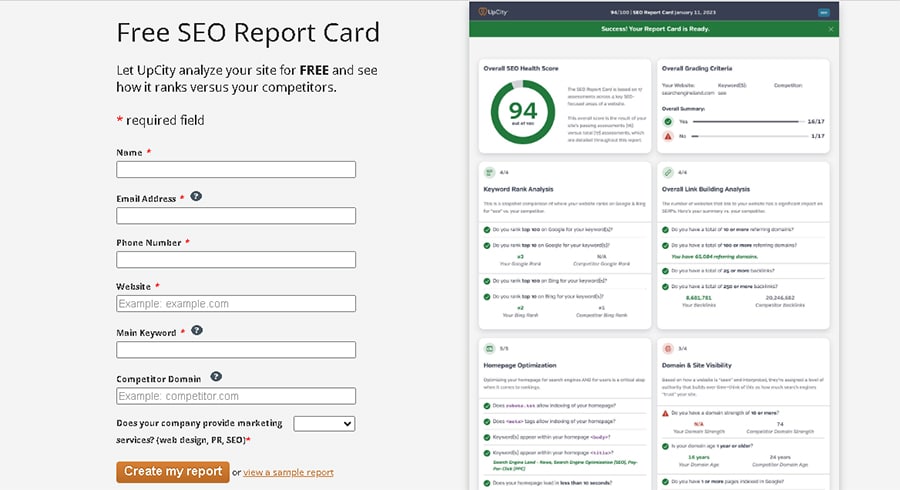 UpCity's Report Card is a free SEO audit tool that lets you see how your website compares to those belonging to the competition. Its layout is really easy to understand, and you only need to enter a few details on their page to get your own report card.
Pros: You'll get a rank analysis, a detailed account of your backlinks, information about your website's accessibility, and domain authority metrics. Additionally, the Report Card also gives an analysis of the competitor's URL.
Cons: Past users have said they would like to see a more thorough rundown of the traffic data and the competition analysis.
Pricing: This tool is completely free!
7. Seolyzer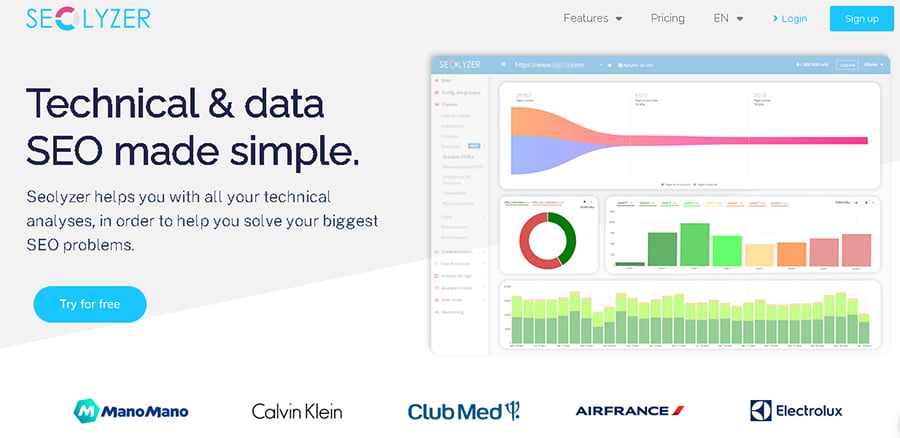 This SEO audit tool works by analyzing the information that search engine bots leave in your server's log files —doing this allows Seolyzer to extract your relevant SEO KPIs. All the data the tool provides is visible in real-time, making it possible to act quickly when a problem arises.
Pros: In addition to analyzing your page speed performance and identifying errors and redirects, you can also segment and compare webpages, monitor SEO issues, and measure your optimization efforts on a page-by-page basis.
Cons: The free version only analyzes one website and up to 5,000 URLs, and it doesn't include cross-analysis or GSC Connect, both of which are paid features.
Pricing: In addition to their free version, there are also paid plans starting at €39 and going all the way up to €249. There's also a custom plan available.
8. NetPeak Spider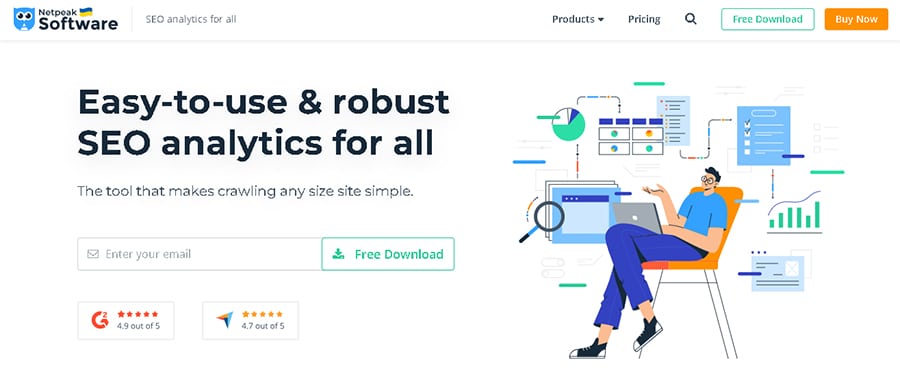 NetPeak Spider is awesome for those who already have an intermediate or advanced knowledge of SEO, as it has a bit of a learning curve and offers information about more complex and technical SEO issues.
Pros: You can spot more than 100 issues to tackle and optimize your website, such as broken links, image errors, and content duplicates. What's more, the software automatically generates white/label SEO audits, and you can export your data reports in PDF, CSV, or XLSX format.
Cons: This SEO audit tool doesn't offer a cloud-based service and only works as a desktop app. Additionally, it's only available for Windows.
Pricing: NetPeak offers a free version of their software and also paid plans to access more features. You can choose annual subscriptions starting at $7/month, or buy a lifetime license.
9. SEO Analyzer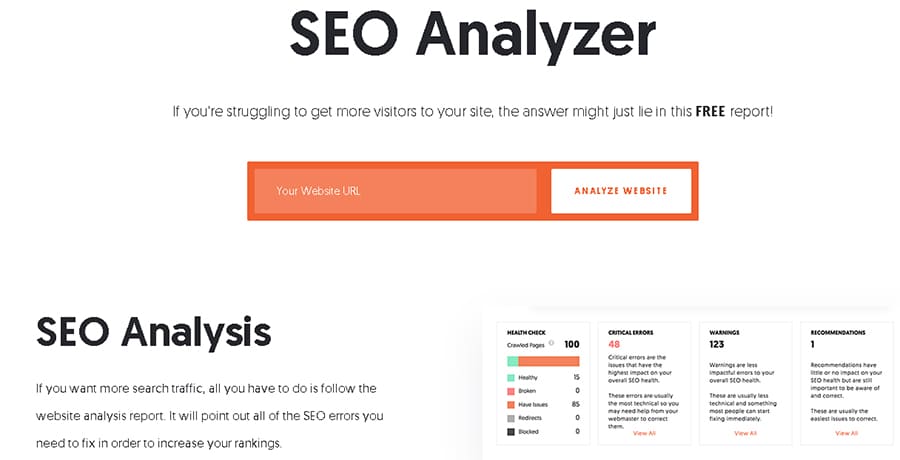 If you know anything about digital marketing strategies, you probably know who Neil Patel is. SEO Analyzer is part of his SEO software, and comes with a really intuitive interface that features keyword research, a backlink checker, and an on-page SEO score.
Pros: When you use this free SEO audit tool, you'll get a list of critical errors and step-by-step instructions on how to fix them, warnings, and recommendations to optimize your website. It also includes metrics for interactivity and visual stability.
Cons: The free subscription limits you to three searches per day, and only shows passed SEO audits and some of your SEO issues, not all.
Pricing: If you opt for a paid subscription, you can choose an Individual plan for $12/month, a Business plan for $20/month, or an Enterprise plan for $40/month.
10. BROWSEO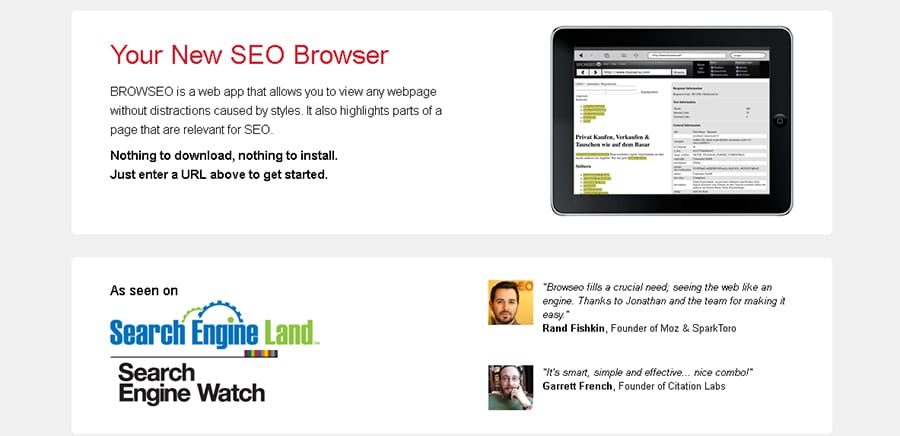 Last but not least for the free SEO audit tools, we have BROWSEO. This web app allows you to see your website as the search engine crawlers do, so you can quickly determine its structure and relevance for specific queries.
Pros: You can see the total number of words your page has and its headers, determine the number of external and internal links, and also review all your meta information. You can also check the developers' blog for information on all things SEO.
Cons: Past users have complained about getting error codes while using the tool, without any indication of what the issue may be. So, this might be something to keep in mind to prevent needless worries in the future.
Pricing: BROWSEO only has a free version.
The Best Paid SEO Audit Tools
Now that I've covered the best free SEO audit tools, I also want to give you a rundown on the best paid options out there! If you're looking for more pro alternatives, one of these might be perfect for you.
1. SEMrush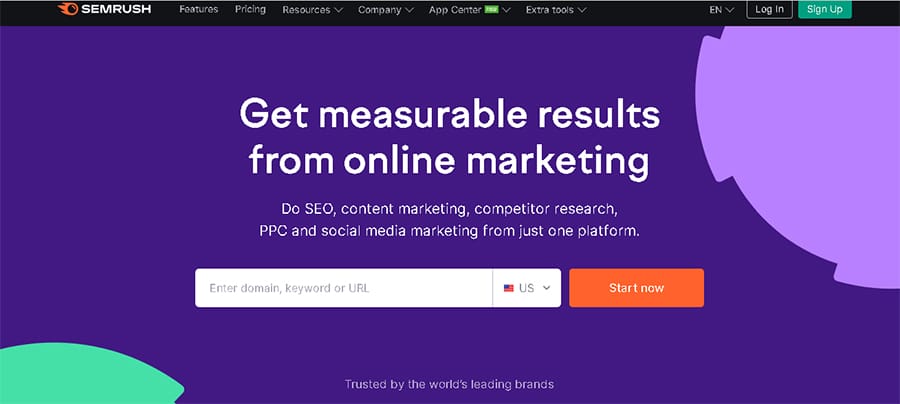 SEMrush is one of the most popular audit tools out there, and with good reason. It offers a very comprehensive suite of tools, and reports on the performance of websites as a whole, as well as on their individual pages.
Pros: You'll get technical SEO reports and recommendations on how to optimize your website based on your target audience and their searches, in addition to being able to analyze your competitors' strategies, and identify all keywords relevant to your site.
Cons: The UX isn't the most intuitive and has a learning curve. Additionally, users have said some data can be slow to update.
Pricing: There are three plans available: Pro, for $120/month, Guru, for $230/month, and Business, for $450/month. You can also opt for a 7-day free trial of any of them.
2. SE Ranking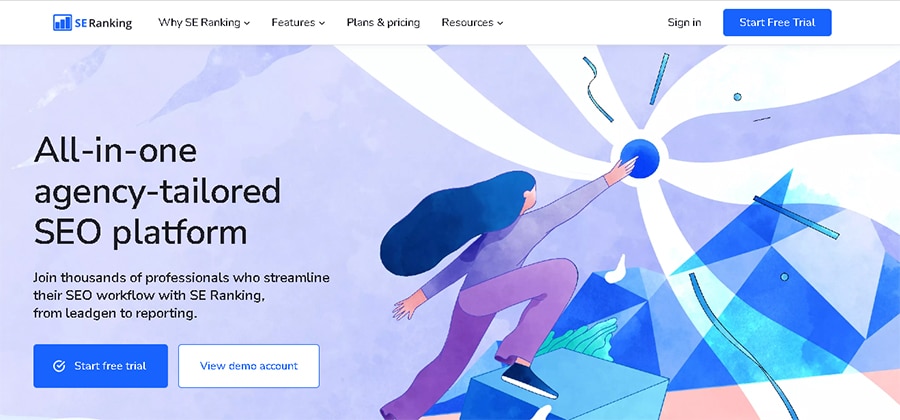 This all-in-one SEO audit tool focuses on keyword research, backlink tracking, social media management, and overall website health. It also makes it possible to create custom SEO reports that include brand design and personalization options.
Pros: SE Ranking lets you customize what classifies as an SEO error, which comes in quite handy. You can also analyze your competitors' keyword rankings and website traffic, and get a keyword rank check that shows historical data changes.
Cons: It has a limited number of tools for PPC specialists, and some users have said there's a lack of information for keyword research in certain regions.
Pricing: They offer three plans, ranging from $39 to $189 per month.
3. Ahrefs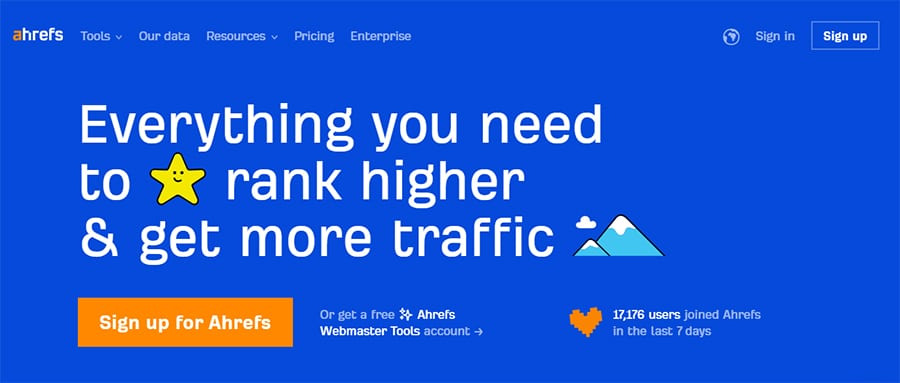 This is an advanced SEO audit tool that alerts you to more than 100 technical issues. The audit is entirely cloud-based, so you can access your data at any time from anywhere. Additionally, you can schedule crawls on a daily, weekly, or monthly basis.
Pros: Ahrefs is an all-inclusive audit tool, featuring a Site Explorer, a Keyword Explorer, a Content Explorer, and a Rank Tracker. You can get reports about your website's external pages, broken links, page performance issues, low wordcount pages, and even JavaScript and CSS resources.
Cons: Ahrefs doesn't have Google Search Console integration, and most users report the UX takes some time to get used to.
Pricing: There are four plans available depending on your needs and business size, starting at $99/month and going all the way up to $999/month.
4. Serpstat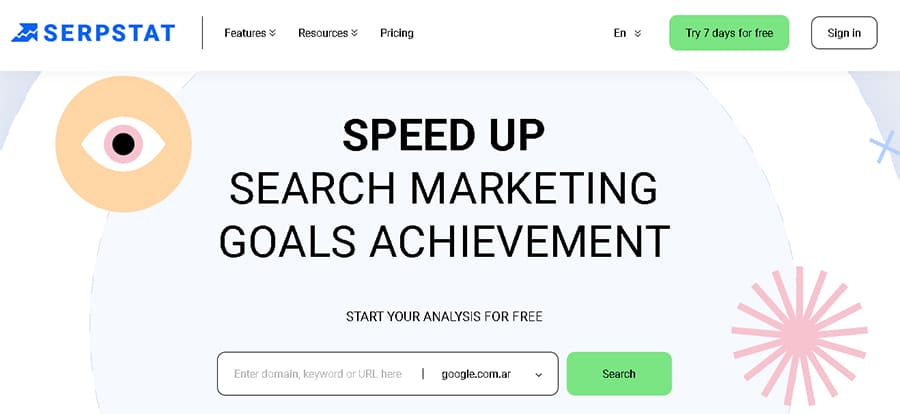 Serpstat is an SEO audit tool that comes with 30 "growth hacking tools," including competitor analysis, site audit, keyword research and clustering, and AI content generation. 
Pros: You can sort your issues by priority when you get your audit reports, and even get possible solutions for them. You also get to analyze your content by comparing it with ranking posts for keywords you want to use and identify missing keywords on individual pages.
Cons: Some of the audit points are too technical and lack a thorough explanation. Additionally, some people note there could be more suggestions regarding SEO improvement.
Pricing: There are four annual plans available, starting at $55/month and going up to $399/month. You can also get a custom plan depending on your needs.
5. SiteChecker Pro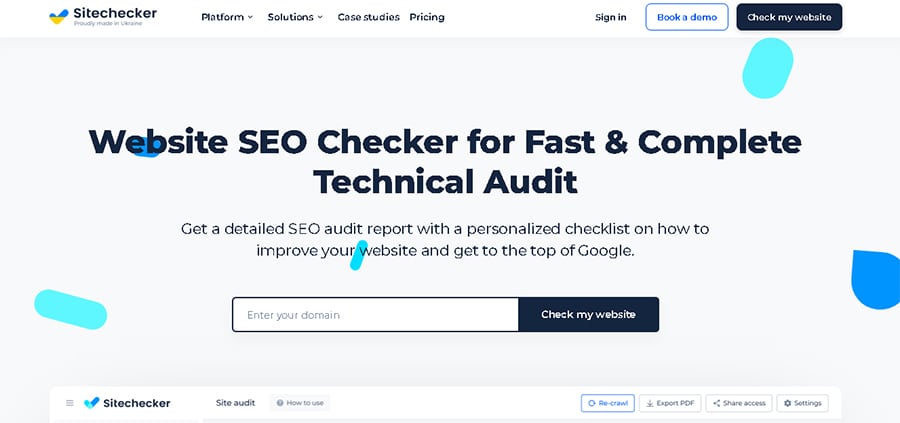 SiteChecker gets you a complete technical SEO audit in just a few minutes. One of the great things about it is that you can access their comprehensive how-to guides, so you can learn how to fix most problems on your site with expertise.
Pros: You can schedule your crawls in advance, and there are many filters available to exclude certain parameters from the audit. This SEO audit tool will also send you an email when there's a critical error in your website, so you can act quickly and fix it.
Cons: Some users have expressed they found issues while using the Rank Tracker tool, and false positives about 404 errors in external links.
Pricing: You can opt for a custom plan, or one of their standard options, which can cost $39/month for a Basic plan, $149/month for a Standard plan, or $249/month for a Premium plan.
6. SEOptimer
SEOptimer crawls your site for a wide variety of factors that may affect your ranking in the SERPs, including on-page SEO, backlinks, usability, performance, and social media. It also applies an overall score to your website and individual scores for each mentioned category.
Pros: SEOptimer's features include unlimited white-label reports for their more expensive plans, tools for keyword research and tracking, SEO crawler, and bulk reporting. It can also pinpoint which internal pages have ranking potential that you may have ignored before.
Cons: The optimization recommendations of this SEO audit tool aren't very comprehensive. Additionally, past users have said the UX could be improved.
Pricing: There are three plans to choose from: DIY SEO for 19/month, White Label for $29/month, and White Label and Embedding for $59/month.
7. Moz Pro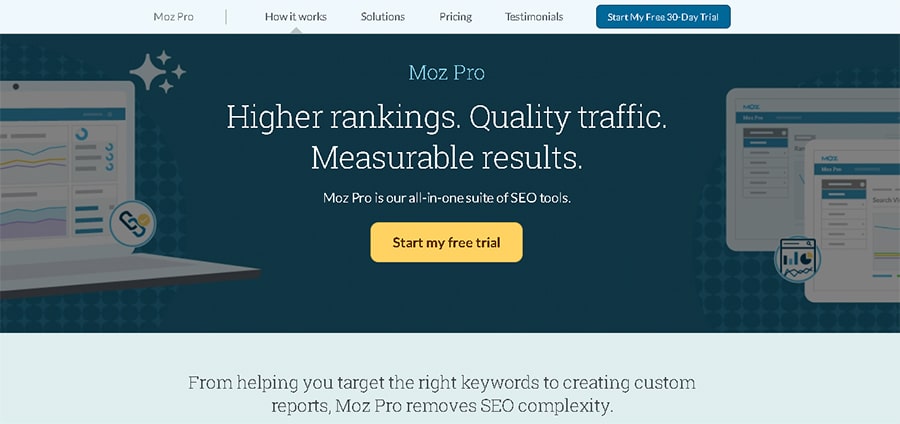 Moz Pro gives you everything you need to track your website's growth, optimize your efforts, and build reports. It crawls your site to detect common problems and also lists any issues according to their category and severity.
Pros: Their website crawler can analyze up to 3,000 links on any given URL. Their insights include explanations of each issue your site has, how it impacts your SEO efforts, and even solutions for them.
Cons: It's on the expensive side among the best SEO audit tools, so it may be out of budget for small businesses. Additionally, the navigation could be more user-friendly.
Pricing: If you pay yearly, they offer four plans ranging from $79/month for a standard package, going all the way up to $479/month for a premium one.
8. SEO Site Checkup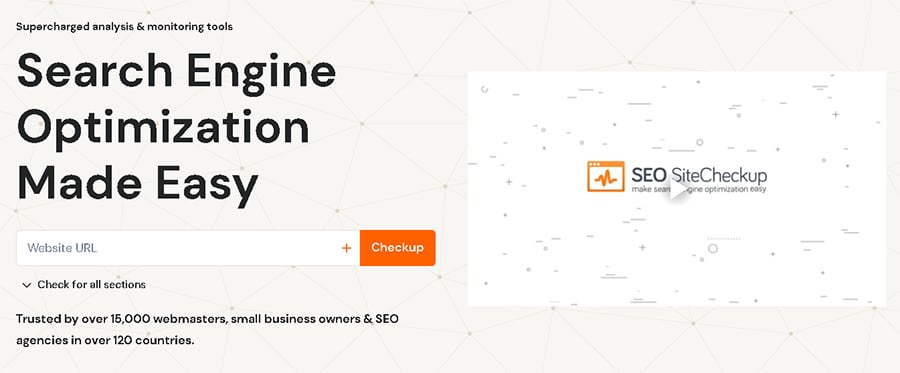 SEO SiteCheckup helps you audit common SEO issues, in addition to monitoring your keywords and backlinks, tracking regional performance, and keeping an eye on your competitors. Additionally, you can store your reports to make it easier to keep track of your progress.
Pros: You get an overview of your website's speed, mobile usability, and security. It also offers insight into the quality and quantity of your backlinks and keeps track of weekly changes for 30 different variables that affect SEO.
Cons: It's not as comprehensive as some other SEO audit tools out there, so the price point might seem a little steep taking that into account.
Pricing: Their Basic plan costs $30/month, while the Webmaster and Professional plans cost $50/month and $90/month, respectively.
9. Lumar Website Intelligence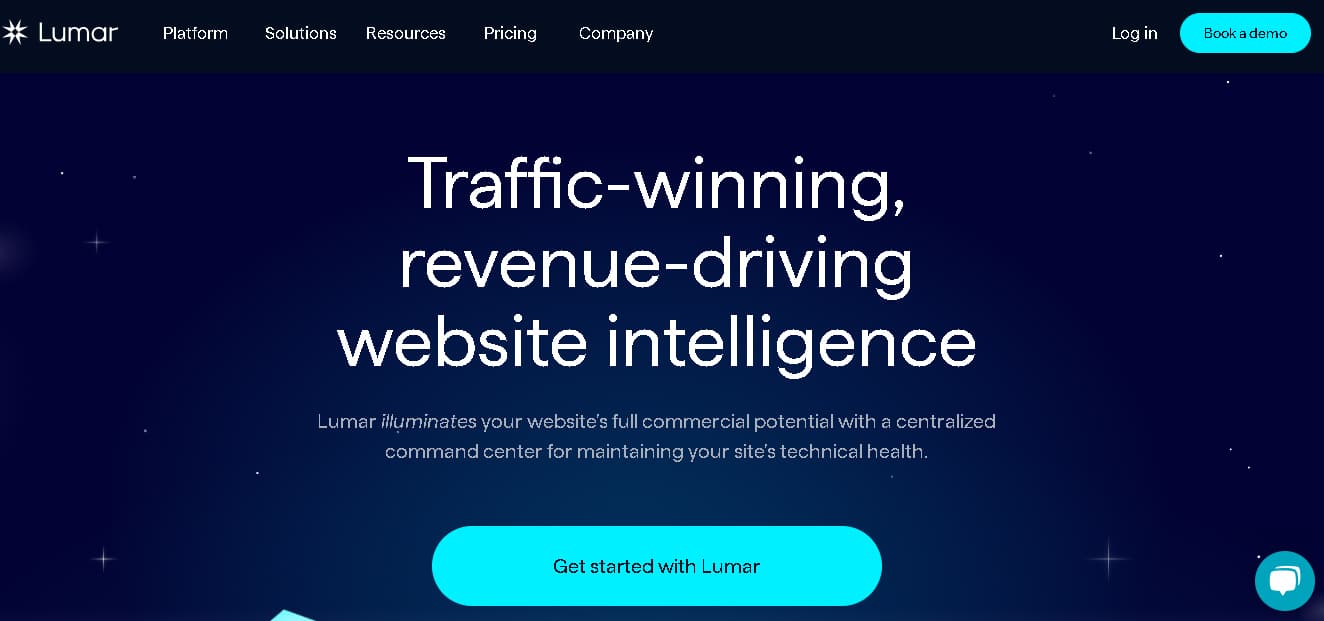 Lumar is another great SEO audit tool gives you in-depth reports of your website's technical health, conducts special audits of eCommerce pages, provides backlink metrics, and can also get reports about your competitors' content.
Pros: Since it extracts data from Google Search Console, you can keep tabs on your progress for the past 16 months. And, if you're part of a team, it has special features like being able to assign tasks to others and create support tickets.
Cons: While they don't disclose the price of their plans, many past users mention they can be quite expensive.
Pricing: They're a bit secretive —you'll need to request a quote to know their pricing.
10. OnCrawl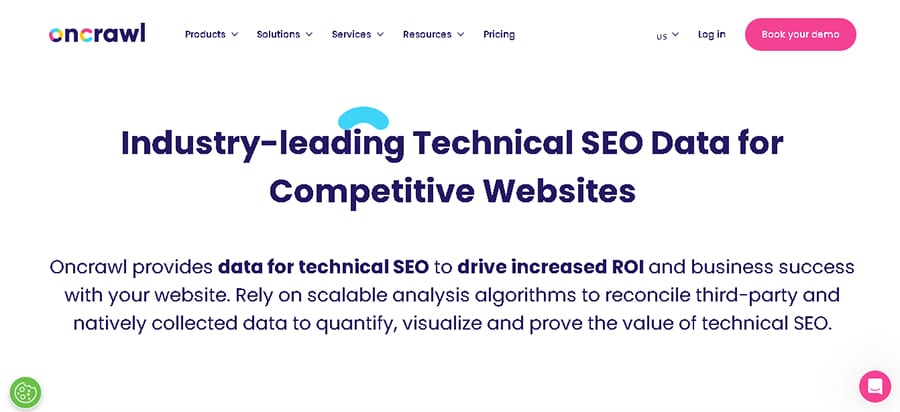 Last but not least on the best SEO audit tools, we have OnCrawl. According to the website, this platform combines the power of technical SEO, machine learning, and data science for increased revenue from search engines.
Pros: All plans include unlimited users and CSV, JSON, and PDF exports. Even their most basic option has far-reaching features, including crawling up to 100,000 URLs per month, data scraping and ingestion, and custom dashboards.
Cons: Most clients agree that, while it's a great tool, the user interface is difficult to use and could be improved.
Pricing: OnCrawl offers three different plans: Explorer, Business, and Infinity & Beyond. However, they no longer mention their pricing on their page, so you have to request a quote.
Wrapping Up
Well, that was quite a long read, but it was worth it!
Knowing the importance of using audit tools is paramount to ensure your website is performing as well as possible and increasing your chances of ranking at the top of the SERPs.
Now that the research is done for you and you know the best SEO audit tools out there, it's time to make a choice! No matter which one you choose, I'm sure they'll help you take your SEO efforts to the next level 😉.