Link building is one of the cornerstones of any successful SEO strategy. If your website has high-quality backlinks pointing to it, search engines will establish it as an authoritative source in your industry and niche. While backlinking can be quite a time-consuming and challenging process when you're just getting started, there are link building tools that can help streamline and improve your efforts.
That's why, today, I decided to give you a handy list of the top 7 backlink tools that can help you find new link building opportunities, track your campaign's success, and more. You'll find a selection of both free and paid tools, so you can benefit from this strategy regardless of your budget.
Now, without further ado, let's get started!
1. SEMrush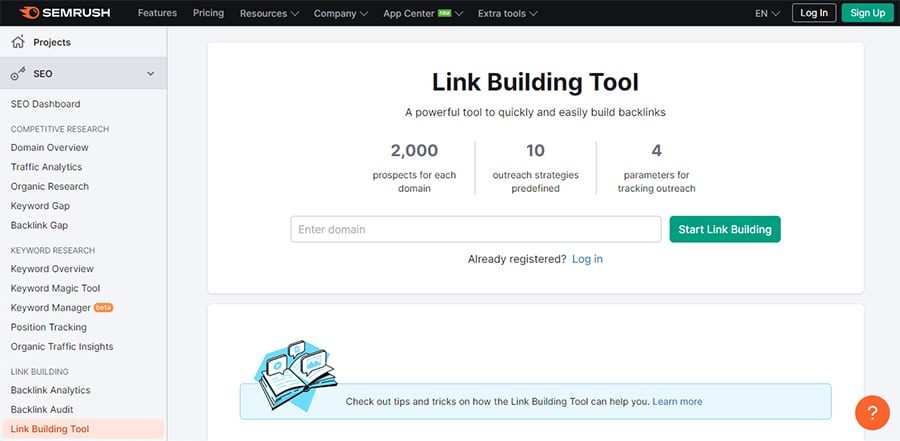 SEMrush is the go-to tool for all things SEO, as it offers a comprehensive range of features, including backlink analysis, competitive research, and even built-in outreach capabilities. You can use it to find new link building opportunities, analyze your competitors' strategies, track your own campaigns, and get notifications if any of your backlinks is removed.
Pros: This SEO link building tool provides a highly detailed backlink analysis that includes quality and authority metrics. It can be used for a wide variety of purposes, from exploring your backlink profiles to identifying toxic links and even analyzing your competitors' backlinks. On top of that, the interface is clean and user-friendly, making it quite easy to navigate through all the different tools and features.
Cons: First-time users might struggle with the tool's complexity, as its extensive features and complexity can have a steep learning curve for some people and might require some time and effort to be able to harness all its features effectively. Moreover, since this is a premium tool, it comes with a higher price tag compared to some other tools in this post. 
Pricing: SEMrush offers different packages that start at $119.95 per month and go all the way up to $449.95 /mo. You can also get in touch with the company and request a custom plan tailored to your specific needs.
2. Ahrefs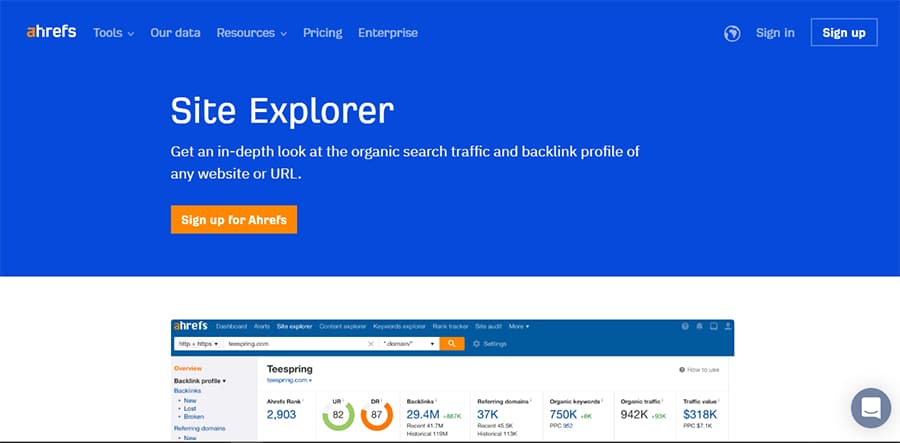 Ahrefs is another backlink tool that offers a wide variety of extra features, which makes it a highly popular choice among SEO pros. With it, you'll be able to carry out backlink analysis, competitor research, and find new link building opportunities. This tool can greatly assist in your link building efforts by helping you determine the value of potential backlink opportunities and showing you the necessary actions you can take to retain or regain valuable backlinks.
Pros: Ahrefs boasts an extensive backlink database that, together with its competitor and content analysis capabilities, and broken link building software
 can help you plan, execute, and manage all your link building campaigns efficiently.
Cons: Users note that the interface can be somewhat confusing at first, and getting the hang of it to effectively leverage all of the tool's functionalities can take some time. The pricing can make it less accessible for those with limited budgets
Pricing: Ranges from $99 to $999 per month. It's important to note, however, that the most affordable option only provides basic data that would be useful for small businesses and simple projects. To get access to Ahrefs' most useful features, like Link Intersect and Broken Backlinks, you should consider the "Standard" package, at least, which costs $199 /mo.
3. Moz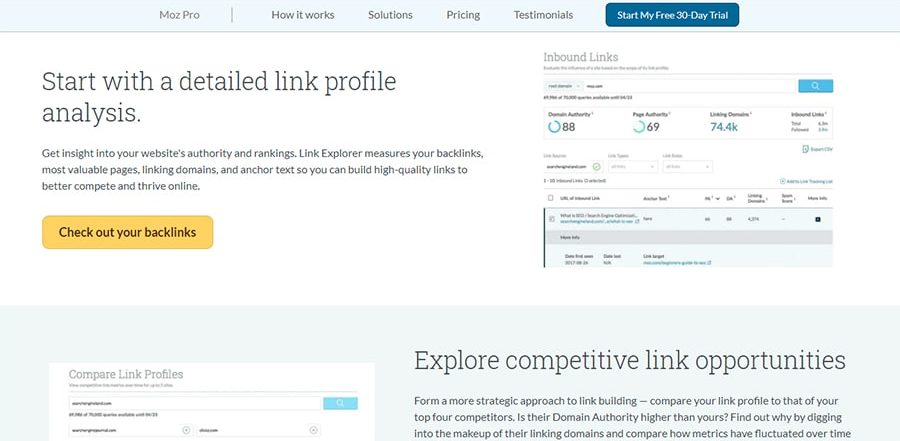 Much like the other link building tools I've mentioned so far, Moz provides a features suite that includes link research, link building outreach, and link tracking. Moz makes it easier to analyze both your own website's backlink profile and that of your competitors, streamline your link building outreach efforts, and track your backlinks' performance.
Pros: You can analyze metrics such as Domain Authority (DA) and Page Authority (PA) to gain valuable insights that will allow you to attract quality links from authoritative sites. If you're planning an outreach campaign, you'll find a handy list with contact information for website owners, webmasters, and influencers. You'll also get many additional and useful tools for keyword research, site auditing, rank tracking, etc.
Cons:  Moz's backlink index size is often considered to be smaller when compared to other SEO link building tools. There can also be a delay in data freshness sometimes, which could impact the accuracy of the information provided and should be kept in mind when making decisions based on it.
Pricing: You can get free access to 10 link queries and 50 rows of data per query every month by creating an account on Moz's site. They also offer a free month's trial so you can try out the full toolset. After that, you can choose one of their monthly plans, which start at $99 and go all the way up to $599.
4. HARO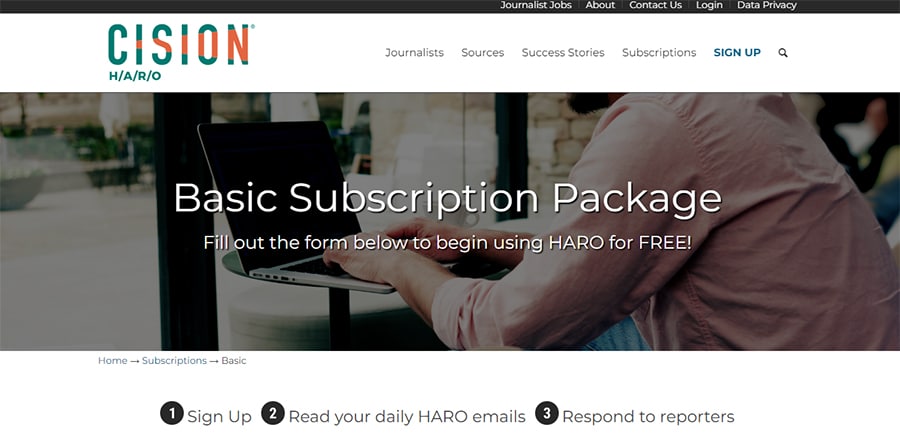 Now, if you're looking for free link building tools that can help you get started in backlinking, HARO can be an excellent option. This online platform connects expert content producers with journalists and publishers that need quality sources for their articles. Because of that, it can be an effective resource for acquiring high-quality backlinks for your site.
Pros: HARO offers the chance to acquire high-quality backlinks from reputable media outlets (which often have strong DA) without any monetary investment. Moreover, you can filter reporter queries based on specific industries or topics, meaning you'll only receive opportunities that are relevant to your niche.
Cons:  You won't be able to analyze any metrics or keep track of your campaigns, as it only provides an opportunity to contribute your expertise to media outlets in exchange for a potential backlink. With many businesses "bidding" for a mention on the same site, HARO can be quite competitive. 
Pricing: The free option enables you to receive email notifications with journalist queries after signing up. You can also opt for a premium, paid subscription to get early access to queries and be able to pitch directly to journalists, among other features.
5. LinkMiner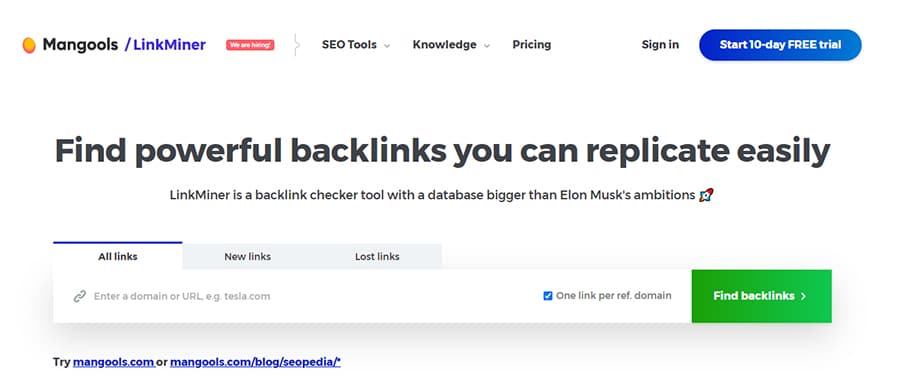 Another free link building tool you should keep at hand, LinkMiner is actually a Chrome extension that's part of the Mangools Suite. It helps you find broken links you can replace with your own content and transform them into baclinks, and you can also leverage it to check any site's backlink profile directly from your browser and gain valuable insights such as the number and strength of backlinks.
Pros: Besides being free, LinkMiner boasts a user-friendly interface that makes it very easy to navigate and understand the information it shows. Among its useful features, you'll find that this backlinks software allows you to export link data to a CSV file that you can open in other tools for a more comprehensive analysis. 
Cons: You can only analyze a limited number of backlinks per day. If you want to check more or access more data and additional features, you'll have to subscribe to a paid plan. Another downside is that LinkMiner's backlink database is not as extensive or up-to-date as other backlink tools on this list, so it may not show you all the links pointing to a particular website.
Pricing: Free.
6. BuzzStream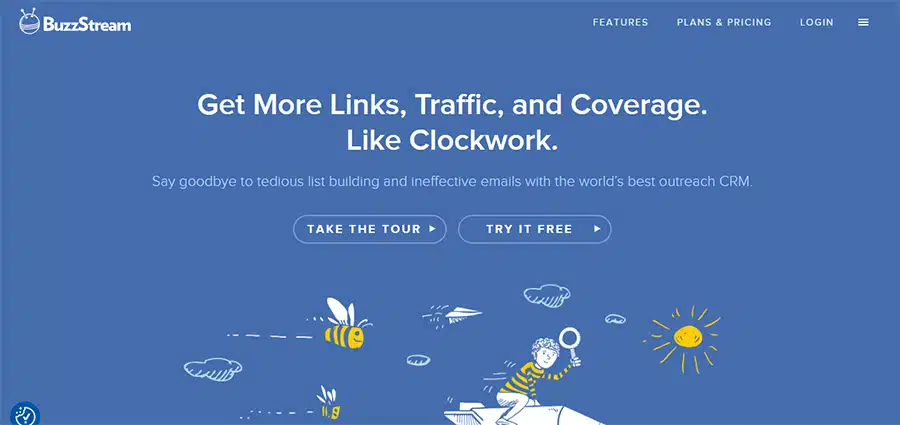 If you're implementing an outreach campaign and find yourself struggling with keeping track of everything, then I've got the perfect link building tool for that. BuzzStream is designed to simplify the process of building relationships, managing outreach campaigns, and acquiring backlinks by organizaing contact information, tracking conversations, and even monitoring diverse metrics and link acquisition progress.
Pros: Say goodbye to spreadsheets and manage your campaigns on one centralized platform. BuzzStream integrates with other link building software and has a Chrome extension that automatically detects email addresses or contact pages on the sites you're on.
Cons: This software is mainly focused on outreach management rather than comprehensive backlink analysis, so it lacks the features other dedicated SEO link building tools have.
Pricing: There are four paid plans, each with access to more features and functionalities such as link monitoring and advanced analytics. You'll find options from $24 /mo to $999+ /mo.
7. Majestic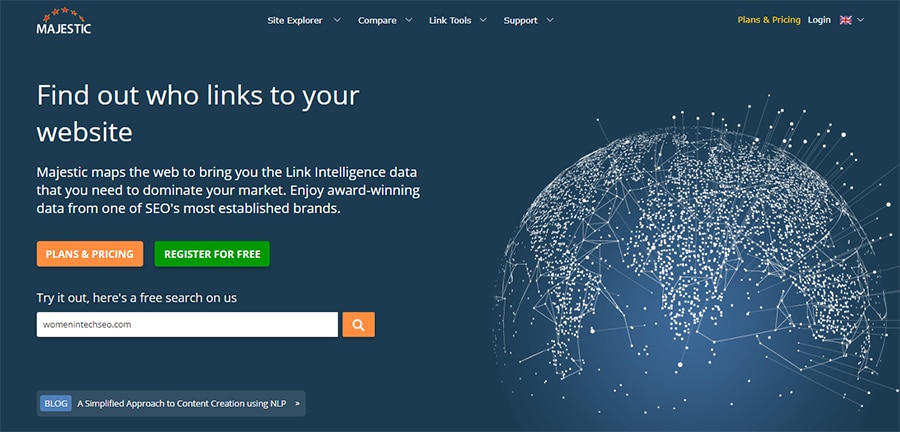 This list wouldn't be complete without one of the best link building tools out there: Majestic. It features a robust link index and advanced features such as backlink analysis, link prospecting, and competitor research capabilities, all of which can assist you in identifying relevant and authoritative link opportunities.
Pros: The tool boasts one of the largest link indexes that's up to date, which can be greatly beneficial to analyze backlinks pointing to virtually any site. Moreover, you'll be able to analyze metrics that help you determine the quality and authority of backlinks. On top of that, you can carry out competitor analysis and link context analysis, discover any website's backlink profile, and even track your campaigns.
Cons: The huge amounts of data that Majestic provides can be a bit overwhelming for beginners. Another drawback is that this software relies on other link building tools for certain functionalities, such as competitive research. 
Pricing: The cheapest plan goes for $49.99 and it's intended for audit and prospecting of a small group of sites. The most comprehensive option that's designed for agencies and developers who need premium features costs $399.99.
Wrapping Up
Link building doesn't have to be a daunting, time-consuming task, as there's software that can streamline part of the process and make it easier for you to find new opportunities to enhance your efforts. 
You'll find that there are many link building tools available out there, both free and paid ones, and while the latter tend to offer more comprehensive features, free tools can still serve as a good starting point for your campaigns. The key here is to choose one that fits your budget and meets your specific link building needs.