We often hear about what we should do to rank higher in search engines, but not so much about what we shouldn't do. SEO mistakes cost you time and money, and they are easy to fall into because search engines like Google have many rules and community guidelines to follow, some of which most people aren't even familiar with.
On top that, these guidelines are constantly changing! Practices that used to be okay are now penalized by Google, and once that happens, it's really hard to turn it back.
To prevent that from happening to you, I decided to make this list of the 10 most common SEO issues you may face and how to fix them.
Let me show you! 
1. Slow Loading Sites
A page's loading time is one of Google's Core Web Vitals, a series of metrics that assess your website's usability. It's closely linked to user experience, one of the most important SEO ranking factors, as a slow-loading page will deter people from accessing your content and browsing through your site. 
But don't worry, here are some quick things you can do to improve your website's loading speed:
Images,

favicons

, and GIFs take longer to load than other elements, like text. To reduce the bandwidth your images use and make your site load faster, you can reduce their size to 72dpi, or use smaller, compressed formats like Webp, which is specifically designed for websites.
Making some redirects is inevitable, but having a large number of redirected links can slow your website's loading speed considerably. So, I recommend doing an audit of your site to check which internal URLs aren't working and try to repair them. You can do it manually, or take advantage of online SEO audit tools.
If you developed your website using WordPress, you should check the active plugins. The fewer plugins activated, the faster your website will be loaded. So, delete the ones that aren't fundamental, your visitors will appreciate it!
2. Not Optimizing Your Website for Mobile 
This is one of the most common SEO mistakes, and one people can no longer afford to make.
In 2018, Google switched to mobile-first indexing. This means that to rank your website, Google analyzes the mobile version first. So, even if the desktop version is set up brilliantly, if the mobile site isn't up to standards, it will be reflected in your rankings.
A mobile-friendly website automatically resizes itself for different screen sizes,  so visit your website from different devices and test the interface. Do all the buttons work? Is the text readable? Are images properly displayed?
If the answer to any of those questions is "no," then you're making navigation harder for your visitors, which always leads to SEO issues. Make sure to configure the elements of your website so that they automatically adjust to the size of the screen.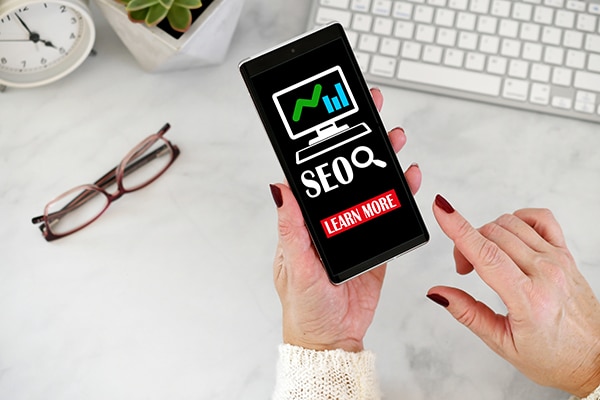 3. Not Using the Right Keywords
Another of the most common SEO problems is focusing only on creating impressive pieces of content and disregarding the practices that will drive traffic to them.
Keywords are the way Google identifies what the content is about so it can index it and show it in the search results. So, if you don't use the right keywords, nobody will find your content, no matter how captivating your blog posts are.
However, this doesn't mean you can just use generic keywords. If your business sells technology, for example, you may think the best keyword for you is "computers." But that's too ambitious, as you'll be competing with companies from all over the world for that keyword.
Instead, it's better to use longer, more specific keywords called "longtails." You can use several online tools to find relevant keywords for your pieces. You can start by adding a location, for example, or an area where your company works. That way, you'll have a higher chance of appearing among the first results of the SERPs.
4. Underestimating the Importance of Backlinks
When one website connects or links to another, a backlink is created. Pages with a high number of backlinks tend to have high rankings in the SERPs because Google considers them proof that your content is valuable and interesting enough to recommend it to others.
There are many strategies to obtain valuable backlinks, but the most important aspect is to create linkable assets. As we mentioned before, people usually link to a page that has been informative and helpful. So if you want people to link to your website, you need to offer them something worth doing so.
Among SEO mistakes, underestimating backlinks is one of the easiest to fall into. Because obtaining links requires proper effort, many people decide to ignore them. But although achiving it can be hard, at the end of the day, the results will be worth it.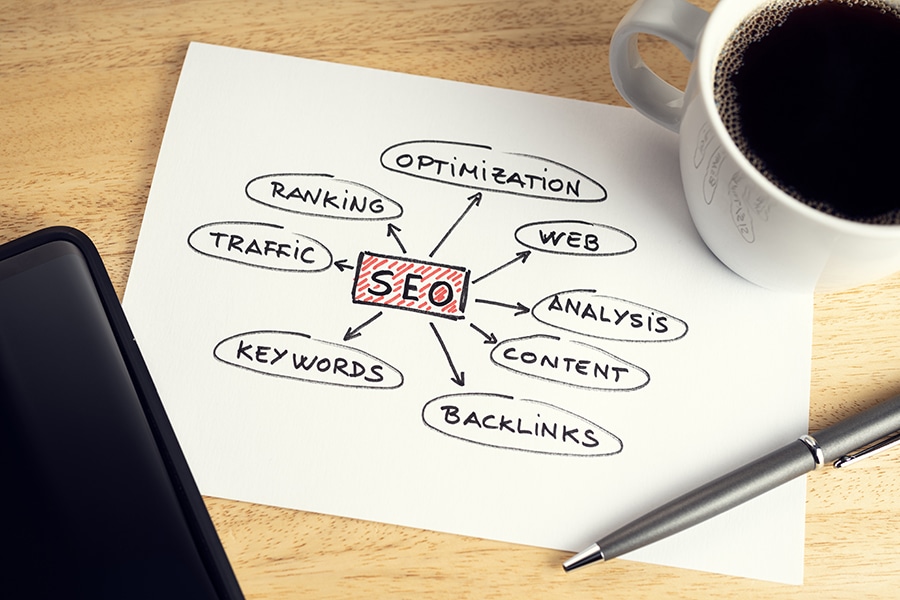 5. Implementing Black Hat SEO
Another reason why websites often deal with SEO issues is that they've been implementing what's known as "Black-Hat" SEO techniques. These practices are used to improve a website's ranking with methods that violate the search engine's terms of service, which often results in severe penalizations.
The following are some of the most common Black Hat techniques you should definitely avoid:
Paid links

are schemes that consist of buying links in blog posts, directories, or any authority websites.

Getting backlinks can boost your website's SEO, but Google considers this paid practice deceptive and manipulative. In order to do

linkbuilding like a pro

, you have to get legitimate links from authority sites, even if it takes effort, time, and dedication.
Sometimes, webmasters write

misleading titles and descriptions

to obtain higher click-through rates. This practice, also known as

clickbait

, goes against users' experience as they end up not finding the content they were searching for. And if it makes the user experience worse, you can probably guess it'll lead to SEO problems.
Link farms

are websites that exist just to inflate the number of backlinks a website has. These links are often numerous, but low-quality, as the sites don't worry about providing valuable content and just focus on placing links. Google can quickly detect a link farm and punishes websites that use this method.
6. Stuffing Keywords
Another Black Hat SEO technique that's sanctioned by Google is keyword stuffing. This practice consists of filling your pages with as many keywords as possible, without worrying about their relevance or your content's quality.
I know I mentioned that not using keywords is a common SEO mistake, but using them wrongly also has its consequences. Keywords must be presented naturally, always aiming to flow with the text and not interfere with the reading experience.
To avoid keyword stuffing, you can use tools like SurferSEO. This plugin analyzes your page and will tell you how many times you can place a keyword without going overboard. As a rule of thumb, though, you can trust your gut: if it feels like too much, then it probably is.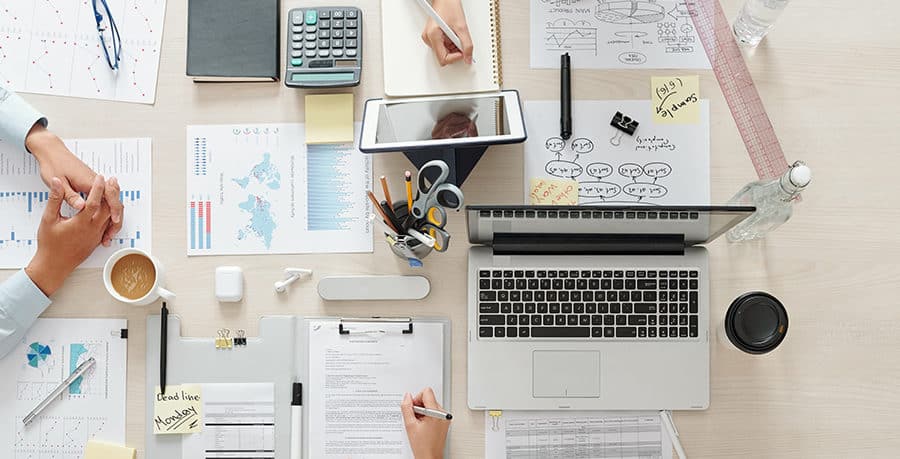 7. Uploading Duplicate Content
We say something is duplicate content when the text is too similar or identical to posts on either your site or someone else's. It's considered one of the worst SEO mistakes because it's plagiarism, and that's heavily penalized by Google.
It's important to note that if you published an article in a guest blog, and you wish to upload it to your website as well, you can do it. However, you must notify Google in the code by adding a small HTML tag to differentiate the republished version from the original article:
If you republish a guest post, from "AvoidSEOMistakes" for example, your tag will look like this:
The tag helps Google identify the original post and rank it accordingly. That way, you will avoid having any SEO issues.
8. Using AI Writing Tools
Artificial intelligence is constantly evolving, and there is now AI that will write your blog posts for you. But be careful before jumping into this new wave, because it can lead to SEO problems.
Google has already announced that this practice will be penalized. Regardless of the tools used to create it, content written using AI writing tools is considered automatically generated, which is against the search engine's Webmaster Guidelines.
Unlike the quality you can expect from professional content marketing agencies, blog articles written with AI use a simple language that Google can recognize easily. And for the search engine, it doesn't matter how the tools are being used; taking advantage of them in any way is considered spam.
And among SEO mistakes, spam is one you don't want to fall into— believe me!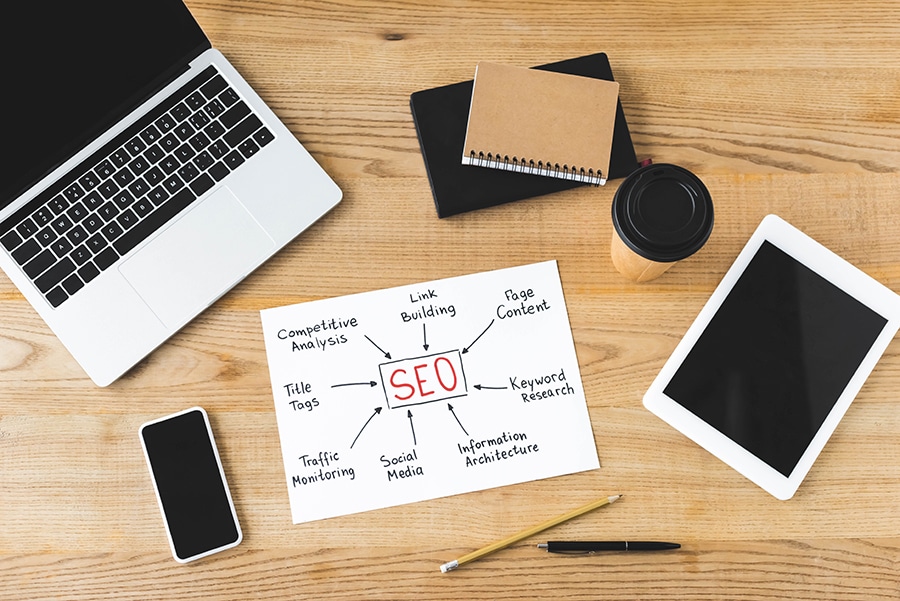 9. Not Going With the Flow
Always analyze the first result of the SERPs in which you want to position yourself because you can learn what your competition is doing, what's working for them, and what people are looking for when they search for a specific keyword.
For example, this note is about common SEO mistakes, right? If you search this keyword on Google, all of the first results are guides that explain what the most common mistakes are. However, if, instead of providing helpful information, my post just said, "In order to avoid SEO mistakes, hire Yum Yum Digital," readers would probably be a bit disappointed, and my ranking won't be good.
This doesn't mean you should imitate others and forget your brand identity: Just discover what your audience needs and provide it. Remember that keeping users happy should be your guiding principle in order to avoid SEO mistakes.
10. Having Broken Links 
Broken links, commonly known as 404 errors, are URLs that cannot be accessed by users. There are many reasons why those errors happen: a typo in the URL, the external site is no longer available, or broken elements within the page won't let it load properly.
Besides leaving a bad impression on your visitors, broken links affect your SEO rankings because they cost you crawl budget. The Google bot only crawls your website a certain number of times in a given timeframe. If it encounters too many broken links, it will move on to a different website, leaving some of your pages neither indexed nor crawled.
In order to fix that, you can use Google Search Console. The crawl stats feature allows you to identify which pages are throwing a 404 error on your site. Once you identify where the errors are coming from, you can recreate the content on the page or create redirects to divert your visitors to similar pages that work and avoid SEO problems.
For broken external links, you can attempt to reach out to the website and let them know of the broken URL. If the domain is no longer active, you can simply delete it or substitute it with another source.

Wrapping up
SEO is essential nowadays if you want to be seen by your target audience and compete against other businesses. But with Google's algorithm constantly changing with the new technologies and developments that emerge, it's easy to make common SEO mistakes.
Positioning your website the right way takes time: you need to find the right keywords, create compelling content, build backlinks, and more. But the effort is worth it—It will take much more work to fix penalizations!