There are many content marketing examples out there that show how a memorable campaign can stay in people's minds for a very long time and convert prospects into a brand's loyal customers.
I know that diving into the waters of content marketing can be scary when you aren't familiar with the many forms it can take. On top of that, you might be trying to guess which ones would work best for your business.
To help you with that, I've decided to compile a list of 12 examples of content marketing that had great results and go over what made them successful and what you can learn from them. Now, let's get started!
1. TechBii's Blog Posts
Blogging is one of the go-to marketing tools for most businesses out there, and for a good reason. Writing blog posts allows you to discuss different industry-related topics that your audience will find interesting and helpful, thus establishing yourself as an expert in your field.
Now, let's start off this list of content marketing examples by looking at how the folks at TechBii leveraged blogging as a marketing strategy. They define themselves as leaders in the technology niche, but how did they achieve that status? Well, for starters, their blog is full of tech-related posts covering just about everything in their niche, from Android and iOS to web design.
Personally, I'm a fan of their SEO articles, like this one here that gives a few tips on how to improve your site's ranking on Google. Their posts are always informative, engaging, and easy to understand, even for rookies. It's no wonder they're leading figures in their field!
The lesson here
This type of content marketing strategy required that they post new, optimized information regularly, which I'm sure called for hard work and dedication. However, I believe their efforts were well worth it because they've established themselves as experts in the tech industry.
2. Victor Blasco's Guest Posts
Guest posts are similar to blog posts, but in this case, you're writing for another company's blog. I've found that this is one of the best types of content marketing strategies to start business relationships with other websites and build backlinks to your own page.
But how is this relevant to your content marketing efforts? Well, writing guest posts gives you the chance of being mentioned on renowned websites with huge audiences. The best part is that the website's reputation will vouch for your trustworthiness, and their readers might be redirected to your own site. 
Now, let's go over Victor Blasco's examples of content marketing and see how guest blogging has benefited his company, Yum Yum Videos. 
He has published helpful articles on sites such as HubSpot, Godaddy, Zapier, and Semrush, and he has even been featured in a Forbes article as a video marketing expert. 
This is a content marketing example that brought Yum Yum Videos wonderful results, as the guest posts have helped position the company as a relevant source of information regarding video and digital marketing.
The lesson here
Being mentioned on sites with high traffic and a good reputation gives more credibility to your business and can also drive traffic back to your own page.
3. Venngage's Infographics
Infographics are a content marketing example that has recently become incredibly popular, so you probably already know that they're simple visual representations of hard data. This type of content marketing is always a good idea if you want to illustrate complex topics or convey large amounts of data in a way everyone can easily understand.
What makes infographics great is that they can help you attract new prospects. A potential customer might not have the time to watch an entire video or read a whole blog post, but they can take a quick glance at a graphic and get the information they need. Helping them this way will get them more interested in your brand.
Let's get meta for a minute here, and take a look at this infographic about infographics.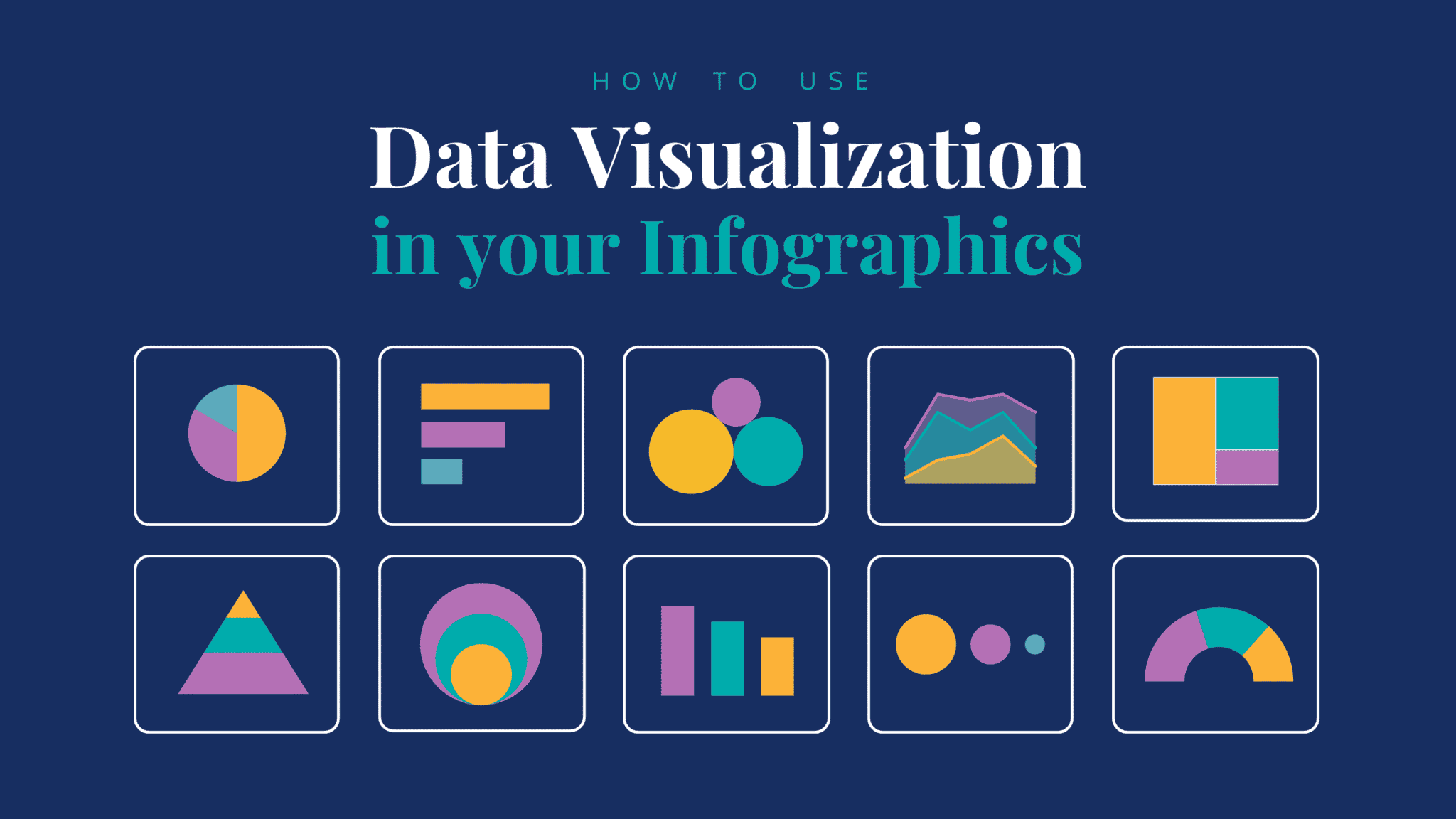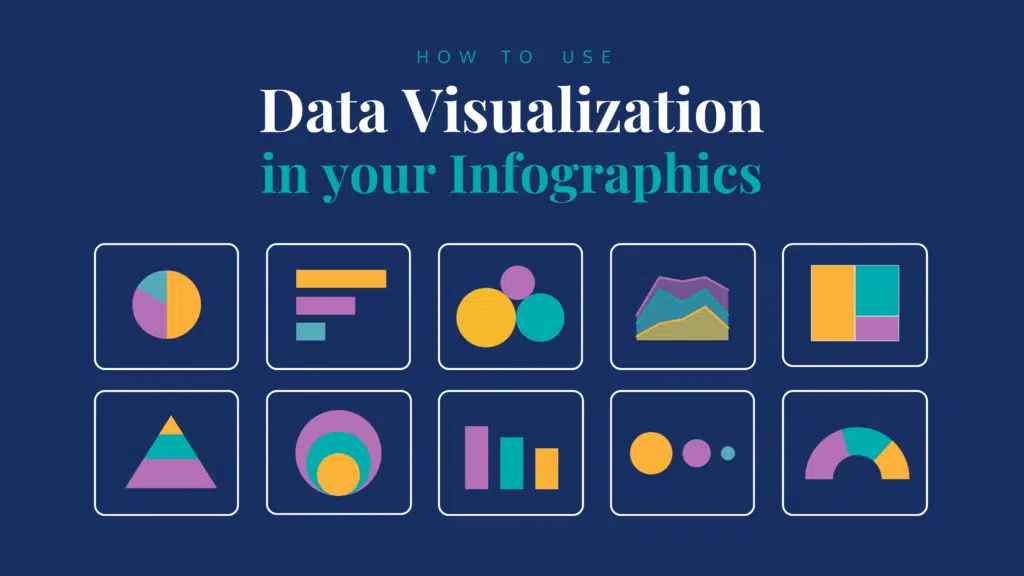 The people at Venngage help businesses create fantastic, compelling visuals, and just by looking at this particular example of content marketing, we can tell they're good at what they do. With this image, people can easily discover the different types of data visualization available for their infographics.
The lesson here
There are many types of content marketing available, but if your business deals with hard data, presenting it using visuals can give you better results than plain ol' text. 
4. Moz's Email Newsletter
Newsletters are amazing content marketing examples because you can use them to make announcements, share news, send discount codes, and more. Most importantly, they're a handy tool to remind your audience you're there and build relationships with them.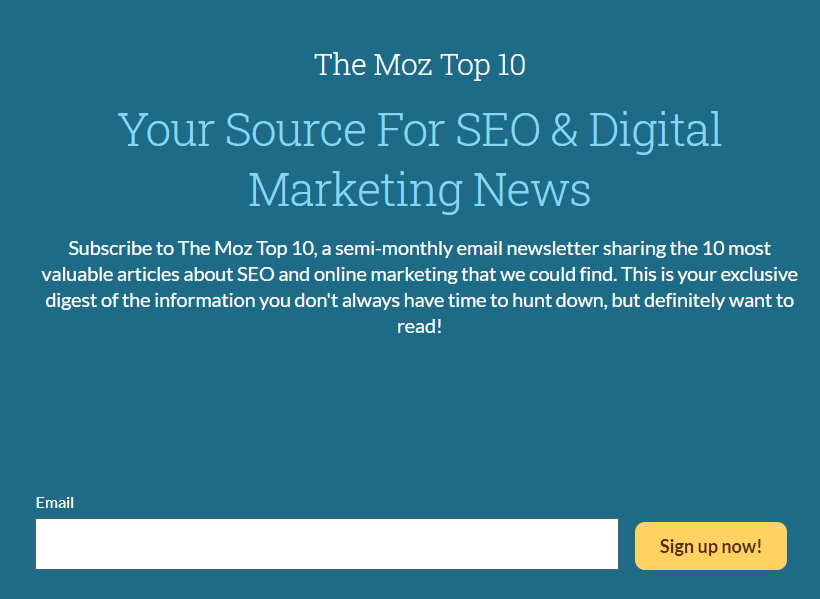 Semimonthly, Moz sends their subscribers a list of 10 recent articles about SEO and digital marketing from a variety of sources, and not just Moz themselves. They call this newsletter the "Moz Top 10," and they use it to provide value by keeping their audience up to date on the latest trends.
It's worth noting that they're not overtly promoting themselves because newsletters are, at their core, a tool to share information. Since the recipients aren't overwhelmed with promotional content trying to sell them something, they'll be more likely to visit the site.
The lesson here
Sometimes, good content marketing examples aren't all about hard sales. Offering valuable content to your prospects is fundamental to building positive relationships with them, and that means that promotional pieces shouldn't always be front and center.
5. Yum Yum Video's Explainers
As you probably already know, video is one of the most effective types of content marketing you can leverage to captivate and engage your audience. 
It's no secret that most people prefer watching a short video to learn more about a brand and their products or services over reading an article about them. And who wouldn't? The combination of visuals and sounds is far more compelling than a wall of text.
Explainer videos are short pieces that communicate what your business is all about and how you can help solve your viewer's problems. Good quality video content can take your marketing campaign to the next level and promote your brand in a memorable way.
This piece about the different explainer types for businesses is one of our most successful content marketing examples, and we're proud to say it got over 400 K views on YouTube and more than 100 comments! So, it brought a lot of positive engagement to our channel and helped us rank higher in YouTube's SERP. And all that with just a 2-minute video!
The lesson here
Video campaigns can have wonderful short and long-term results, as a single, well-made video can give you hundreds (if not thousands!) of views, interactions, and new subscribers.
6. ONESOURCE's Case Study
Case studies are one of the best types of content marketing you can use to convert leads in the final stages of their Buyer's Journey. When your customers are seriously considering your product or service and are almost ready to make a purchase, a case study can help them choose you over the competition.
Moreover, they allow you to show the positive results real people had with your business. Prospective customers are bound to feel more confident about choosing your brand above others when you can back up what you're promising. In addition, reading about other people's experiences can clear any doubts they may have about your product or service.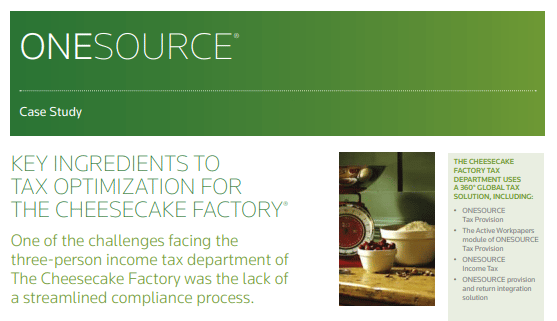 ONESOURCE is a company that provides corporate tax software and services, and to help generate sales, their site features a case study of The Cheesecake Factory that looks like a cooking recipe.
The combination of their results working with a client in the food industry with the visual look of a recipe was a brilliant idea. Moreover, the information is broken down into subheadings and bullet points that make it easy to understand. Clean and to the point, with no unnecessary extra data, this content marketing example has everything a prospect may want to know condensed into a single page.
The lesson here
Case studies can effectively help convert customers in the last stages of the Buyer's Journey. In addition, combining original visuals with the hard data of your research makes for an even more interesting case study.
7. Event Leadership Institute's Testimonial Video
Testimonials are a type of content marketing tool that works similarly to case studies, as they help build brand trust by showing prospects your previous customers' positive experiences with your product or service. 
It's clear that video is a more engaging format than text, so it can be a good idea to create a testimonial for those prospects who may not have the time or the energy to read a full case study.
What's more, there's something more authentic about watching another person share their experience with a brand.
The team at the Event Leadership Institute, a company that provides training for event and meeting industry professionals, created a testimonial about one of their events that gets you hooked up from the first minute:
If their target audience had any doubts about signing up for one of their courses or webinars, this content marketing example is bound to clear them. All those people happily discussing the many positive takeaways from the event are making me want to sign up for one of their courses!
The lesson here
Showing prospects the positive results you've had with previous clients can help their decision-making process, and encourage them to choose your brand over others.
8. Yum Yum's Videos Marketing Trend Survey
I've mentioned many content marketing examples so far, but this one is a personal favorite. But I'm getting ahead of myself, so let's start at the beginning. Surveys allow you to conduct your own original research to learn what's best for your marketing strategies. With this tool, you can know what type of content your audience wants to see, for example.
Back in 2019, we conducted a survey about video marketing trends with more than 160 businesses. The results gave us an impactful insight into our industry and our audience's thoughts.

For instance, we discovered that 87% of business owners are satisfied with the ROI of video marketing, and 62% think that video content was very important for their future campaigns.
The best part of this survey is that it got Yum Yum Videos mentioned on Forbes not only once, but twice! We were also featured on sites like Small Business Trends and Business 2 Community, which increased our site's credibility and got us multiple backlinks that made a huge impact on our SEO efforts.
The lesson here
Conducting a survey not only gives you an insightful look into your field's current trends, but it can also get you mentioned on important websites and boost your page's credibility.
9. UXPin's eBook
eBooks are one of the best content marketing examples that allow you to connect with your audience since they provide a platform to share your thoughts and opinions on a particular matter freely. Not to mention the increased amount of leads they can generate. 
I know it can be daunting to start writing one, but my recommendation is to think of eBooks as long blog posts (alright, very long blog posts). Their length allows you to get more technical, explore a subject in depth, and share more information than you normally would in an article.
Now, let's analyze the landing page of the eBook "Web UI Design for the Human Eye" by UXPin, a product design platform that helps businesses "build great products and collaborate in one place".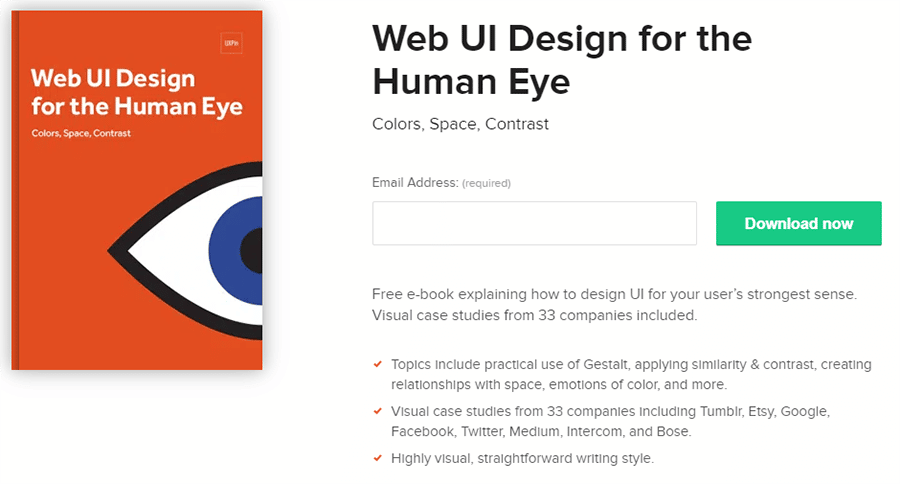 What I like about this page is how it focuses on the ebook's main goal is,  teaching the reader "how to design UI for your user's strongest sense," and quickly summarizes what they'll find inside in three bullet points. The best part is that it does so without being overtly promotional.
The lesson here
Publishing an eBook can help your audience identify your company as a potential solution to their needs by giving them the information they need without being overly promotional. 
10. Neil Patel's Podcast
Podcasts are one of the most creative types of content marketing, and they've become increasingly popular lately. It might be because being able to talk freely with your audience is very hard to match with other formats. Besides, audiences can listen to them anywhere at any time, an advantage that other content marketing examples lack.
If you've been in the marketing world for a while, chances are you know who Neil Patel is. One of the leading figures in the marketing industry, he's constantly updating his website and putting out new content for the benefit of his target audience.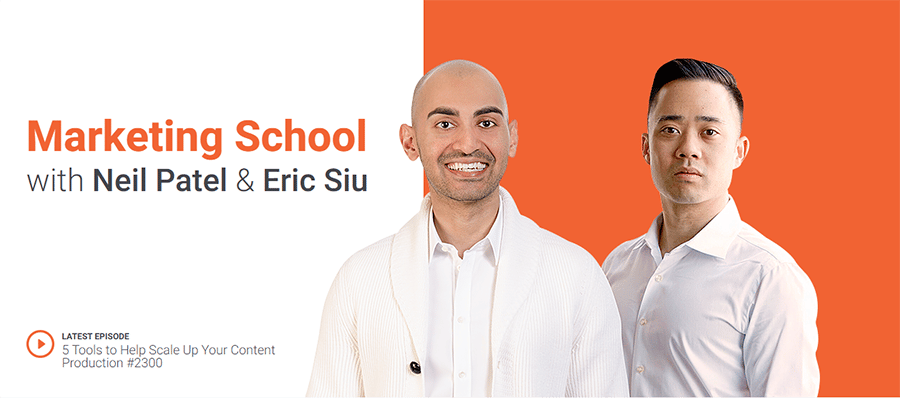 His Marketing School Podcast is the place where you can learn anything and everything about marketing. There are more than 2,000 episodes, and all of them are around 5 minutes long — bite-sized pieces of valuable information that his audience can enjoy on any platform.
The lesson here
A podcast can let your creativity flow freely. In addition, the format gives a more personal feeling to what you're saying, making it easier to connect with your audience.
11. Letterboxd's Twitter Account
Content marketing isn't only limited to your regular distribution platforms like YouTube or your website, especially because social media can make you go viral with just one click. On top of that, almost anything you can imagine can be found on Twitter, Instagram, or Facebook (just to name my big 3). 
There's no doubt about the incredible potential that social media has. In fact, brands that have social media profiles have an edge over those that don't because they're able to keep in touch with their customers regularly.
 Many brands are already taken advantage of the informality of the internet to build a social media persona that's easy-going, funny, and has a "just like you and me" feeling to it. A good example of this is Letterboxd's pinned tweet:
Letterboxd is a platform where users can share movie reviews, but at its core, it's a community of film lovers. As in any community, sometimes there are disagreements.
In this case, it seems users weren't pleased about Letterboxd's poster for The Batman. So, after many tweets complaining and making memes about it, what did the company do? They found a solution… and bantered with their followers in the process!
The lesson here
Having a strong social media presence is key to interacting with your customers and keeping a positive relationship with them. And while it's not essential to have an internet persona that jokes around with its audience, it's definitely a fun strategy!
12. Mos's Financial Blog
I know I've already mentioned the benefits of blogging, but I thought the best way to wrap up this list of content marketing examples was with one I find incredibly insightful.
Educational content is the key to good customer experiences. Giving prospects the tools they need to navigate your field empowers them in their choices and enables them to make informed decisions when making a purchase.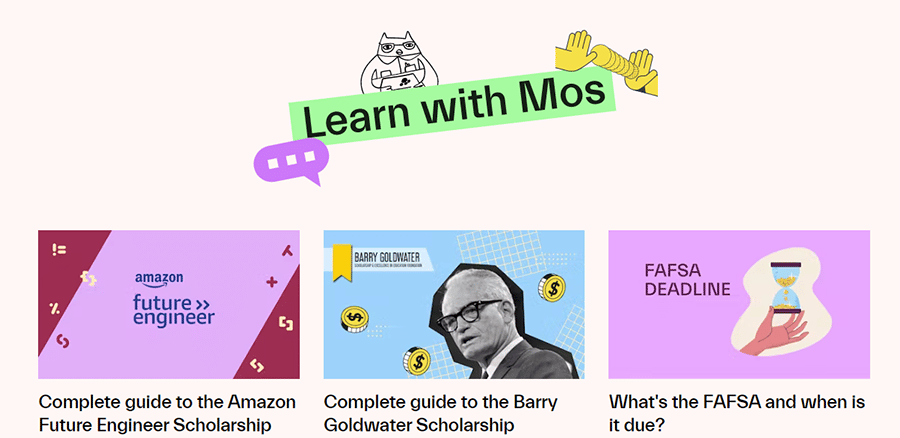 Mos is a fintech company that caters to college students, and they leveraged this strategy wonderfully by providing useful information about finance. Being a fresh adult in college can be very scary, but their blog can certainly help their audience overcome any issues they might come across.
This content marketing example shows that they value their customers and their experiences, one of the best ways of building brand loyalty.
The lesson here
An informed customer can become a loyal one. Helping prospects with your industry's do's and don'ts makes them feel they've made a good choice in picking you above other businesses.
Wrapping Up
Content marketing is no joke! It can be hard to decide what to do, how to do it, and overcome the insecurities that come along with trying out new things. But remember that the key aspect of content marketing is finding the format(s) that work best for you and your business. What did wonders for a particular brand may not have the same results for you if you're in a different niche.
Now that you've seen for yourself what great content marketing examples look like, go out and start planning your own campaign 💪.