You've probably heard about the wonders of online advertising. But for a small business, navigating the deep seas of this practice can be daunting, and coming up with creative digital marketing ideas is not easy. After all, how can you know whether they'll actually help you achieve the goals you're after?
Well, to save you the hassle of researching the best online strategy for your brand, I've compiled these 30 digital marketing ideas for small business that can help brands just like yours.
Let's go!
1. Leverage Social Media
Any list of digital marketing ideas should begin with social media marketing because that's where your audience is most likely at.
Creating professional social media accounts for your small business is an effective —and completely free— marketing tactic you should definitely leverage. Besides being a way to talk directly with customers and gain unique feedback from them, social media gives you exposure, drives traffic to your website, builds brand awareness, and even increases sales.
Furthermore, by creating a unique brand identity, you can grow an online presence that will foster trust among your audience and encourage engagement from your community in ways that complement in-person contact.
2. Try Content Marketing
Among the best digital marketing ideas for small businesses, content creation must be one of the most popular, as it's a very effective strategy that doesn't require a big budget. 
Nowadays, creating entertaining pieces can be very easy with intuitive programs like Canva. Content marketing has the potential to attract potential customers who are interested in learning more about a certain topic related to your industry and what you do, so it can be a great way to educate them and share relevant information.
3. Keep an Eye on Trends
Following trends presents a unique opportunity to gain exposure and reach new audiences. So, make sure to stay up-to-date with the current trends and popular topics, follow memes and video challenges, and overall be aware of what's happening in the digital atmosphere. 
This doesn't mean you have to follow every single trend but rather choose the ones that go best with your business, those that align with your mission and values and resonate with your target audience.
4. Share the Behind-The-Scenes
There's a lot going on every day behind the counter in order for your product or service to end perfectly in your customer's hands, so why not show them just that? Behind-the-scenes are an excellent idea for marketing because they can show your company's authentic, unique, and honest side, making it easier for customers to relate to you and your product. 
Additionally, sharing all the effort that goes into it or the high-quality materials you use can help your clients understand you and your hard work better.
5. Create a Content Calendar
For your content marketing strategy to work, having a calendar to stay on track is crucial. Organizing your strategy will allow you to properly visualize your digital marketing ideas, distribute your content, manage your time efficiently, and maximize your efforts. 
Make sure to include suggestions for ideas on it, the copy you'll use, or even other brands' videos or posts to use as inspiration. That way, when you have to upload something, it'll be an easy job.
6. Educate Your Audience
YouTube is the go-to place for tutorials and educational content, and there's a good reason for that! Nowadays, people are eager to learn more about their hobbies and the topics they're interested in. 
You can take advantage of that fact and start educating your audience with how-to videos, tutorials, and other types of videos. By sharing the unique knowledge you've gained through first-hand experience, you can position yourself and your business as a subject matter expert and become an authority among these people who are passionate about learning more about your field.
7. Partner with Influencers
Connecting with important figures that you know your audience follows and engages with can be a way to reach them through different channels. While influencer marketing might not sound like a good digital marketing idea for small businesses that can't afford costly, famous figures, there are micro-influencers with valuable followings. These people often share the same niche-oriented audiences that you're looking for.
So, you can offer to send them products or aim for a more formal partnership in exchange for promoting your business. Just make sure that any influencer you choose to collaborate with matches your brand's values, personality, and tone.
8. Offer Giveaways
It's needless to say that people love free things, but this doesn't mean you just have to hand out coupons and freebies to anyone who comes across your brand. After all, this can get expensive pretty fast and your brand won't really benefit from it.
Instead, hosting giveaways or contests can provide a way to generate engagement among your followers and attract potential customers
For your giveaways to be effective, though, you have to request something that will get you closer to your goals in return. So, for example, you could ask that they follow you, tag a friend, or share the post in their Stories— allowing you to gain broader exposure.
9. Collaborate with Another Brand
No company works alone. Be it service providers or product distributors, we're all made of long nets of relationships. Collaborating with another brand can be a way to gain exposure in new niches, acquire valuable know-how and experience, and overall build stronger relationships in your field.
For it to work, though, you must join a brand that complements your own but isn't your direct competition. Also, establish a series of guidelines beforehand because for it to work, everyone needs to be on the same page and equally invested.
10. Start a Challenge
Challenges have become a core element of social media today, and one of the best creative digital marketing ideas. Users want new ways to interact with brands, and challenges are an effective way to increase your online presence while taking advantage of people's desire to share their creations and originality.
11. Share Testimonials
Testimonials are honest feedback from customers who have tried your product or service and left satisfied with it. This marketing tool is effective because people find what others have to say about your brand more authentic than anything you're saying yourself.
Additionally, what makes this a great digital marketing idea for small businesses is that you just need to ask your clients to give genuine feedback, and share their honest opinion with others in the form of comments on social media or videos you can embed on your site. So, it's completely free! 
12. Use Relevant Hashtags
Using hashtags in your posts is one of the easiest digital marketing ideas you can leverage. There are many strategies you can follow, but a good rule of thumb is to differentiate between trending, industry-specific, and local hashtags. 
Trending hashtags can expand your post's reach, while industry-specific hashtags are suitable for when you're tackling a topic related to your product. On the other hand, location-based hashtags are a must to reach potential customers in your area.
Whatever you do, focus on integrating your tags into the post in a seamless manner. And don't over-tag! You may get a penalty from social media platforms if you overstuff your posts with them.
13. Feature User-Generated Content
When your customers make a post about your brand or give an honest review on their Stories, they're creating UGC. User-Generated Content is any kind of content created by your customers about your brand. Sharing it on your profile helps increase your credibility and also acts as social proof regarding the quality of what you offer. 
Additionally, it can also be a way to gain the loyalty of those creators you share, as everyone likes to be appreciated by the brands they follow.
14. Focus on Local SEO
For a small business, becoming the first result on a search engine result page can be hard, as you have to invest your limited time and resources into competing with large companies all around the globe. Instead of aiming that high, you can first focus on local SEO.
By using location-based keywords in the titles, headings, and body content of your main website pages, you can work to become the first to appear for results in your local area.
The only downside to this free marketing idea is that it's a long-term strategy, so while you won't see results immediately, it will provide big benefits thanks to the specific local traffic you'll gain in the future.
15. Start an Informative Blog
Another way to drive traffic to your website is through blog posts. Consistently putting out this kind of content can improve your online visibility, strengthen your SEO, and allow you to convey your knowledge in a particular area. 
You can share simple but insightful articles that attract clients researching for information and guide them to your business with your expertise.
16. Get Quality Backlinks
Backlinks are links from other websites that lead to yours. Not only are they proof of how relevant your business is in your niche, but they're also a way to increase your organic position on the SERPs because Google considers them as a signal of trustworthiness. This makes a backlinks strategy a must among the most effective digital marketing ideas.
The best way to get backlinks is by creating linkable assets—that is, valuable or relevant content that'll make other pages want to link to your information. Here, it's time to use the knowledge you've gained with your work to write blog posts, record videos, or share any type of content that's valuable enough for others to link to.
17. Create Visually-Attractive Infographics
Infographics are a very powerful marketing tool. With eye-catching visuals, they help draw users in and deliver information in an easy-to-digest manner. Additionally, these pieces of content are highly shareable, so they're also a great way to get backlinks and increase exposure.
The best part is that you don't need to be a professional designer to create an infographic, as there are many intuitive online tools that can help you do that.
18. Try Guest Blogging
Another way to gain high-quality backlinks to your website is through guest blogging. This SEO technique consists of writing blog articles to publish on other people's websites or sharing others' articles on yours. Besides increasing brand awareness, guest blogging can be an effective way to improve your SEO ranking, and forge collaborative partnerships with other websites.

19. Take Advantage of Video Content
Video has become a highly popular type of content among users, making video marketing one of the best digital marketing ideas to attract potential customers. 
This type of content is more entertaining and engaging than a piece of text, thanks to its dynamic visuals and compelling scripts. Moreover, by leveraging storytelling techniques, you can create wonderful pieces that catch your viewer's attention and help you convey your brand's message in a concise and effective way.
20. Optimize Your Website
As more and more people use the Internet to shop and make transactions, your website has the potential to serve as the public's first introduction to your company or brand. That's why it needs to be optimized for a seamless user experience. 
A fundamental aspect to keep in mind is Core Web Vitals, a series of metrics that are representative of the state and usability of your website. Keep an eye on them if you don't want to make a bad and unprofessional first impression with your site, and keep visitors coming back instead of switching to the competition.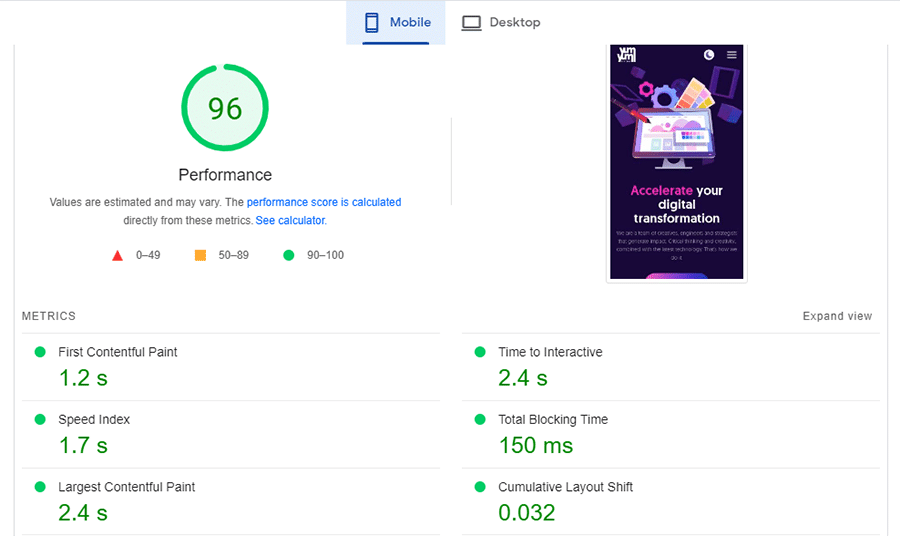 21. Make a Newsletter
As you might already know, mailing lists are made up of people who have expressed interest in your business and subscribed to receive more information, offers, and so on. That's why sharing a newsletter with that segmented audience is one of the most popular ideas for marketing.
By sending insightful and useful emails regularly, you can progressively increase this audience's favorability towards your brand, urge them to buy, or gain their loyalty.
22. Raise Funds for a Good Cause
Reputation management is an important part of marketing because the way others perceive you can not only influence sales, but also gain you important partnerships, or help you strike better deals with your providers. 
A good digital marketing idea can be to hold virtual fundraising events for a good cause and improve the public's opinion of your brand while helping others. It's as easy as finding a charity or cause that aligns with your brand design and values, and getting in touch. Also, make sure to honestly dedicate your full efforts because I can assure you that your followers will notice if you're just doing it for your own benefit.
25. Apply for Business Awards
The majority of industries hold some kind of business award. By winning one, you can obtain recognition in your field and increase your credibility among both customers and the competition. Plus, even if you don't win, business awards are a great way to gain experience, get the attention of other companies, and form potential partnerships for future campaigns.
24. Go Live!
I've already said this, but the way people interact with brands has changed. Nowadays, customers aren't looking to only buy a product or service: they also want to connect with the brand behind it. Among the best digital marketing ideas for small businesses, Live events stand out as a way to do just that. 
Don't worry if you can't afford a high-end production yet, as your Lives videos shouldn't be too formal. Just keep things casual and fun, and interact with your followers in the unique way only your brand can.
25. Start a Customer Loyalty Program
Customer loyalty programs are systems you employ to offer benefits to customers who come back to your store. These programs can be fairly inexpensive and encourage brand loyalty because they reward repetitive purchases. For example, you can set up a system of points that add up with every purchase and can be later exchanged for rewards such as a free product or a discount.
26. Organize a Webinar
Webinars are a free way to promote your business by providing helpful information to potential customers. You can teach people how to do something related to your product or give them tips on the best industry practices to follow.
Besides gaining authority on a field, oftentimes when hosting a Webinar, you require participants to sign in with their email, which will allow you to build up your mailing list and earn contacts.
27. Hold a Networking Event
Networking events help other businesses and professionals connect. What makes these conferences work, is the offer of special seminars that help participants hone their sales, social media, or advertising skills. So if you're thinking of hosting a networking event, look for knowledgeable spokespersons that make attending attractive for professionals.
28. Make a Google Business Profile
With a Google Business profile, your brand will show up on Google Maps, making it one of the most effective digital marketing ideas for small businesses. Setting up your profile is extremely easy, as you only need a Google account. And the benefits and exposure it can offer are incomparable because any time someone looks for shops nearby, yours will come up.
29. Get a Chatbot
Are you having trouble finding the time to answer all of your customers' queries? You can set up a chatbot that automatically answers those usual, recurrent questions. Nowadays, social media platforms like Facebook even offer integrated chatbot options, so you can set it up in your social media profile.
That way, you can deal with the influx of customers and save time by not having to reply to questions that always have the same answer.
30. Always Follow Analytics
No action can be completely effective if you're not tracking it and measuring the results. Following analytics is a crucial part of all digital marketing ideas for small businesses, and is, in most cases, completely free. For starters, you can measure the results of your social media posts, or follow the traffic to your website. 
By keeping an eye on metrics, you'll learn what's working and what's not in order to always keep improving.
Wrapping Up
Online marketing offers a broad scope of unique benefits for small businesses, allowing you to gain great results with free or low-cost actions. There are many creative digital marketing ideas you can take advantage of, depending on your needs, your budget, and your brand's objectives. 
You only need imagination and originality to find new, attractive ways to reach out to your customers and help your business grow.