The digital space has become crowded. Companies and creators that offer similar products and services appear constantly, and in order to differentiate yourself and resonate with your target audiences, successful brand design is key.
Working on this aspect of your brand identity can help you strengthen your image in the minds of your audiences, leave a lasting impression, and cement emotional connections with your brand.
There are many factors that go into gaining success with your brand design, but it can also be easy to miss the mark if you need to learn the basics. That's why I've decided to give you a hand and share with you everything you need to know to get started. Let's dive into it!
1. What Is Brand Design?
Brand design allows a company to portray the right image to its customers. But why is that so important? Well, your audience will form an opinion of you within 10 seconds of coming into contact with your brand, and good graphic design branding will help guide how they perceive you.
In simple words, it's a system that incorporates various elements working together to convey and express your identity correctly. If done right, it can help humanize your brand and build a meaningful connection between you and your audience, ultimately contributing to customer loyalty.
2. What Elements Should Your Brand Design Include?
Now that I've answered the question of "What is brand design?" it's time to go over some essential elements to keep in mind and nail your graphic design branding.
2.1 Logo
Your logo is the cornerstone of your brand identity, summarizing it in one simple image and making it clear and easy to understand.
Many companies choose to use a picture that literally shows what their product or service is. Take Book Depository, an online bookstore, for example: their logo is literally a book. But how many bookstores do you know? You can probably count them with one hand.
But if you have a business that manufactures cars or cellphones, you can't use those objects as your logo because there are many competitors selling the same. 
For that reason, I believe that a symbolic design or an abstract picture that's unique to you and sets you apart from the competition is a thousand times better.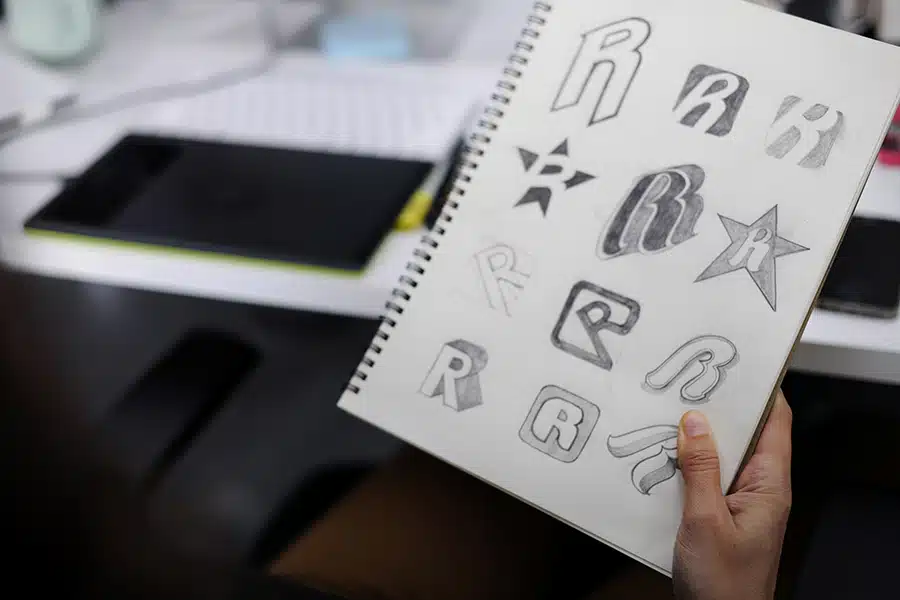 2.2 Typography
In brand desing, what you say is as important as how you say it, and typography is crucial because it's the font you choose to express your brand.
There are many fonts, each with a different personality and "feel" to it. You have to choose wisely, so here are some of the most commonly used types:
Serif fonts

, like 

Times New Roman

, are those that have tags or flags at the end of each letter. These fonts are "older," and give off a traditional, old-school feeling.

Sans serif

 are those fonts that lack the foot that serif fonts have, like 

Helvetica

. They have a more sleek, modern feel to them, and are associated with better legibility.

Script 

typography mimics cursive handwriting. These fonts, like 

Bellania

, can be a great way to add a luxurious or elegant feel to your branding and design.

Display fonts

 are made to be visually attractive, like 

Rickson

. They can be particularly useful for making bold statements and creating an identity people won't soon forget. 
The typography you go for in your brand design can say a lot about you and your company, so be careful in your selection, and never forget that legibility should be a priority in all your pieces of text.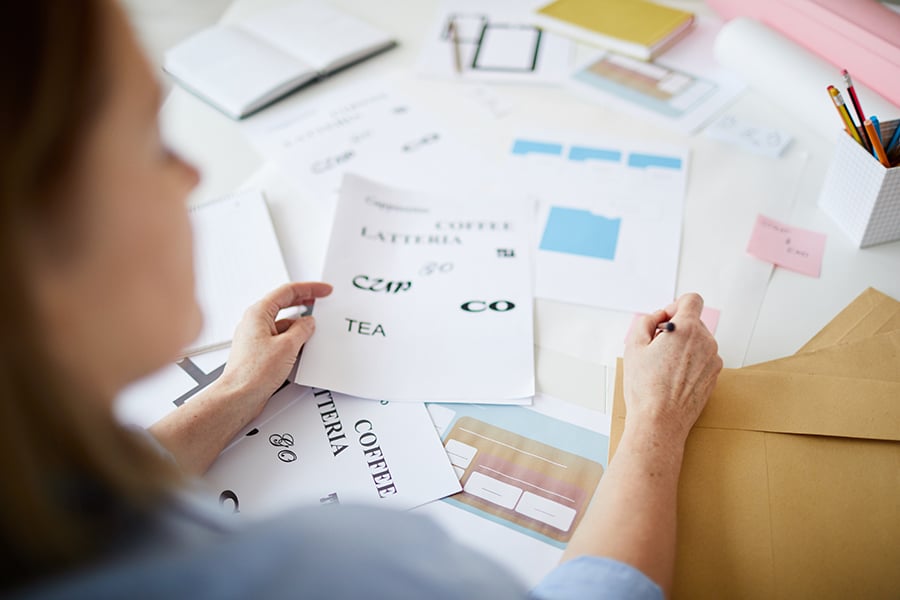 2.3 Colors
Color is a powerful element to connect with your audience, and it actually improves brand recognition by an astounding 80%! Not only that, but it's well known that certain colors are typically associated with specific feelings. So by using the right colors, your brand can also be associated with those feelings!
Here are some of the most common relations between colors and feelings:
Red 

can capture attention and convey excitement, passion, danger, and action. It's an intense color that can provoke strong emotions, so it can be a perfect choice if you want your graphic design branding to be loud, youthful, and moving.

Blue

 often evokes pictures of the sea and the sky. It's a calm color that brings a sense of stability, harmony, and peace. Using blue in your brand designing can help you appear more secure and trustworthy.

Black

 is commonly associated with mystery, power, and elegance, which is why many modern and sophisticated brands prefer this color. This color enhances attraction and seduction; that's why it's used by so many high fashion brands like Saint Laurent and Versace.

White

is a color that traditionally showcases innocence, goodness, cleanliness, and humility. If you're looking to appear simple and honest in your branding and design, this is your color.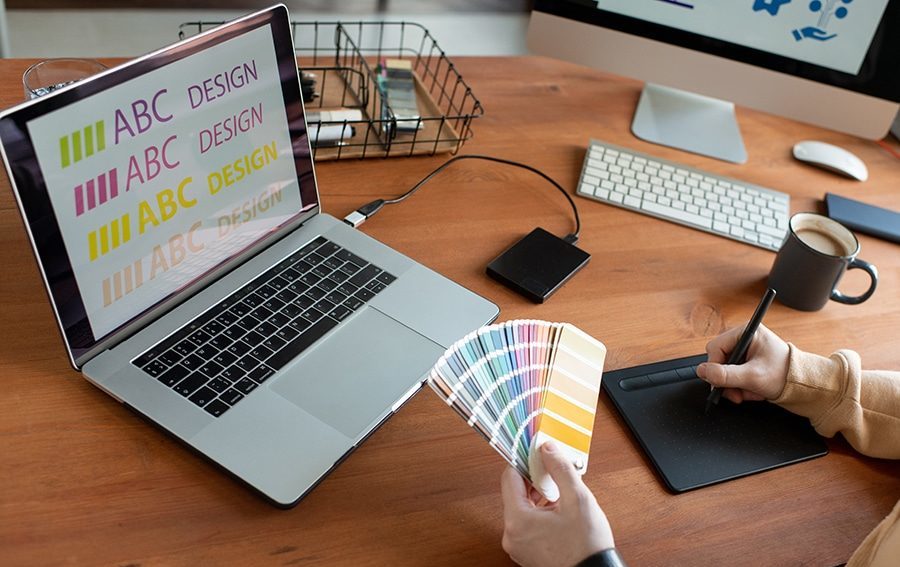 2.4 Icons and shapes
Icons are elements that will help you communicate information in a simplified and easy-to-understand way. However, iconography is a whole separate language, and you must ensure that it remains consistent across all of your brand's communications by using the same colors, shapes, and styles.
The forms and shapes you use in your branding and design can help you reinforce the meaning you wish to give. For example, round shapes are softer, and promote feelings of community, unity, and completeness, whereas straight-edged shapes imply strength and efficiency, stability, and trustworthiness.
These undertones are subtle, but when you're trying to communicate a lot with a small image, you need to consider even the smallest aspects.
3. How Do You Execute Brand Design?
So far, we've tackled the important question of "what is brand design?", and gone over the key elements you can use to show your brand's personality. But effective brand designing is a lot more complex than just combining colors, fonts, and logos. Let's discover how to do it right by taking a look at the four most important steps you need to follow to ensure the best results:
3.1 Do Your Research
Before going straight to designing, gathering information about your target audience is the best course of action. Remember that good graphic design branding will catch their attention and help you stand out, so you need to know more about them.
To start with, you'll want to research your target audience's online behavior and usage scenarios. What platforms do they use? How much time do they spend online? What type of content do they prefer? 
With that kind of information, you'll know exactly where your brand needs to be and what it needs to convey.
Then, you can check on your potential competitors to see how they do their brand designing and how they position themselves. However, always remember to take your competitors as a source of inspiration and not as something to imitate. The biggest error you could make is copying another's branding and being unable to stand out on your own.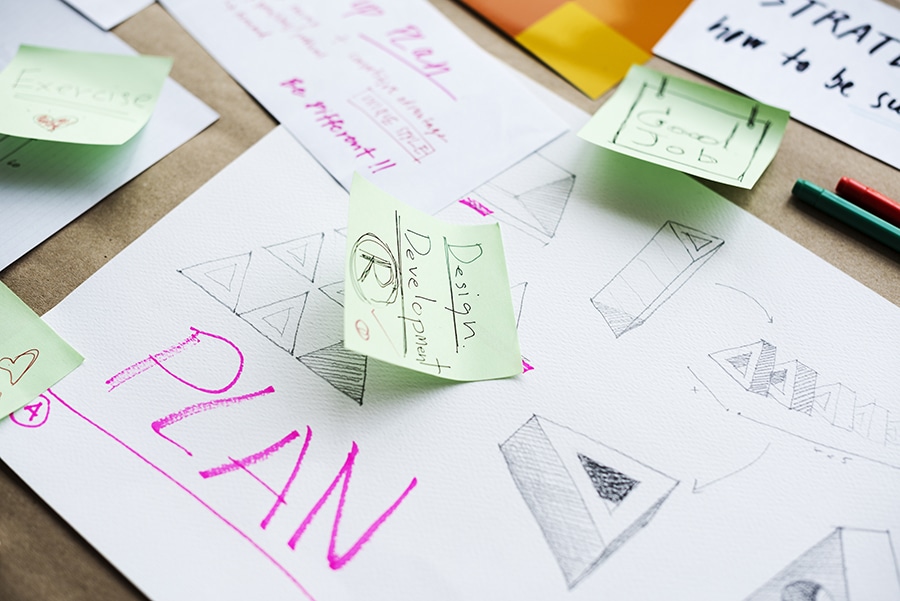 3.2 Build A Solid Strategy
A brand strategy is a long-term plan to achieve consumer identification, build preference for your brand, and gain authority in your niche. By mapping out a clear path, you can save time and effort in the long run, as you'll be setting clear objectives and creating a consistent guide to follow them from the very beginning.
You can start defining your strategy by identifying your brand's mission and vision:
Your 

mission 

is a statement that clearly communicates your brand's purpose and how it plans to serve its audience.

 

It will be a constant beacon of light to guide you when developing your brand pieces, because all your elements will need to convey the same emotion.

Your 

vision

 is

 

all about how you plan to evolve as a company, what you hope for the future, and your long-term goals. It could be gaining a good market position, reaching a certain segment, or solidifying your presence among your customers. A clear vision will help you work in the right direction and make the right decisions to achieve success.
3.3 Be Consistent with Your Brand Elements
We have finally reached the creative and fun side of the brand design process 😀! This is where you put all the previous research into practice and start designing pieces that will effectively attract your target's attention and convey your personality.
But what are these "brand elements," exactly? They're the text, colors, and all the other elements I've mentioned before that come together to communicate your distinct graphic design branding and show your brand's unique personality.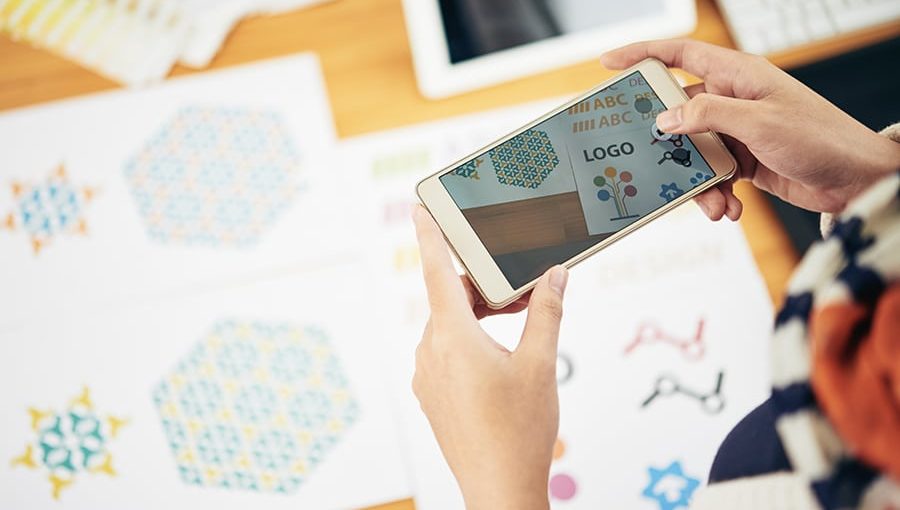 3.4 Write a Style Guide
Last but not least, you need to set your brand's design guidelines in stone. All the work before is only useful if you can replicate it in a strategic and stale way in the future.
A style guide is a document that provides instructions about the correct and incorrect ways to use the graphics created for the brand. It should include the idea and emotions behind your designs, as well as all the visual elements and how to properly use them.
This document will be helpful when creating content of any type moving forward, because it ensures that every time your audience comes across your pieces, they will find a similar concept and a consistent image to remember.
4. Examples of Good Brand Design
I know we've gone through a lot of information, but I've saved the best for last! In order for you to understand everything better and gain inspiration at the same time, I've compiled some of my favorite examples of good brand designing. Let's check them out!
4.1 Video – Yum Yum Videos
Video marketing has become very popular nowadays because videos are a great tool for boosting audience engagement and quickly capturing their attention.
Adding branding and design to these pieces can be a great tool to ensure recognition and increase brand awareness.
This video is a perfect example of portraying your brand without making it all about branding. Just pay attention to how the same brand colors and typography are used throughout the entire piece. Moreover, the clean lines and simple illustrations follow a consistent design that aligns with the brand's identity.
4.2 Website – WordPress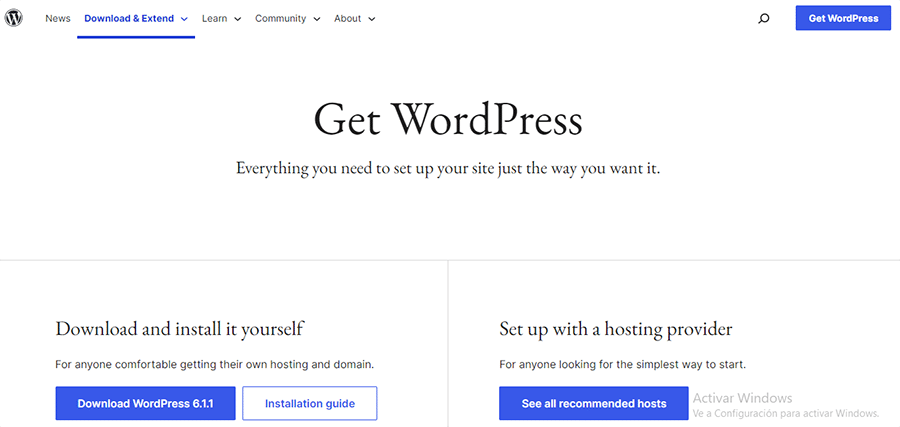 Websites have always played a key role in building a solid internet presence. After all, users rely on them to obtain information about different companies and understand them better. As such, they are one of the most representative aspects of your brand identity. 
In this example, we can see how they keep their brand designing stable to convey their own personal identity. Everything, from the buttons to the typography and the site's favicon, was designed in the same style. 
WordPress uses shades of blue and black for the pieces of text. As we mentioned before, this type of color brings thrust to the brand, and a calm feeling, while adding a modern undertone to it. On top of that, those colors complement each other and keep the text legible on a white background.
4.3 Newsletters – Penguin Random House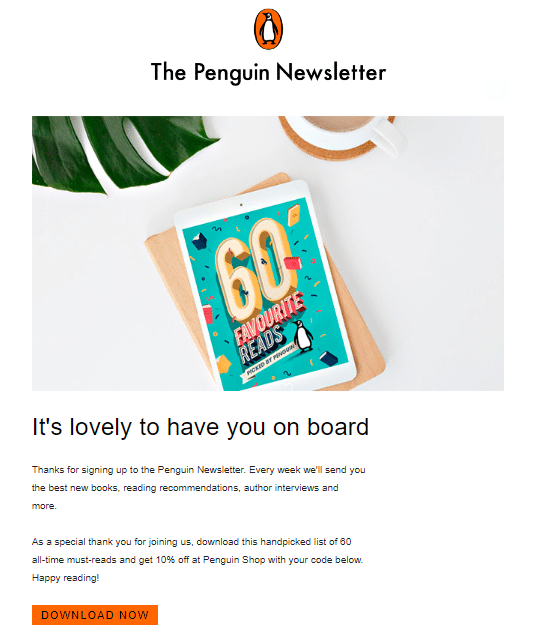 Building an email list to regularly send your customers interesting content can be a great marketing idea if you wish to keep in touch with them. But people nowadays have inboxes overloaded with emails, so how do you set yourself apart from the clutter?
Penguin Random House can answer that for us. Not only are their emails simple, but they also boast the brand's typography and colors. Just take a look at their distinctive orange and how it jumps to the viewer's eye.
This company shows us that your graphic design branding can be subtle and sophisticated by adding just the necessary elements, and small undertones of what characterizes you.
Wrapping Up
Now that you know what brand design is, you can work on making yourself unique and memorable.
Good branding and design will allow you to stand out in a sea of competitors and show your customers who you are and what they can expect from working with you.
Understand your brand and your objectives, and use this knowledge to deliver incredible branding pieces. Not only will you archive positive perceptions from your audiences, but you'll also accurately portray who you are and what you have to offer.
Sometimes, just achieving that can be a game-changer for your brand.