Digital marketing is in a constant state of change. Sometimes, it can feel like you spend more time learning about new practices and updating your current strategies, than actually working on the business itself. Luckily, we have digital marketing tools to help with that.
There are different systems or platforms that can help you automate specific actions and processes, make tasks simpler, and stay up-to-date with what's happening in the industry. 
The issue emerges when you start researching and realize just how many programs are out there! How can you choose between son many options? To help you make the best informed decision for your business, I've decided to compile the 25 best digital marketing tools I've come across.
Let's go!
1. Buffer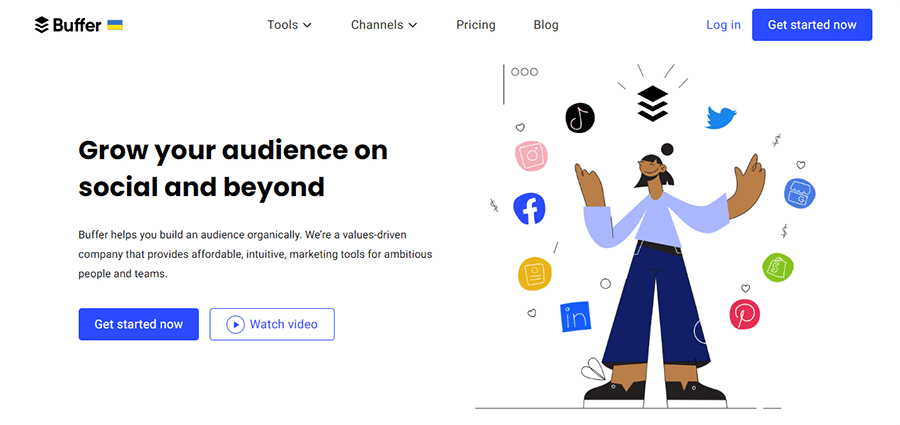 Buffer is a social media management tool that can be used to schedule posts on various platforms, including Facebook, Instagram, Twitter, and LinkedIn.
Besides managing posts, Buffer gives you valuable insight into how your publications are doing. Based on previous results, it tells you when and what to publish to make your content stand out, which channels to share on, and it even suggests the best hashtags to help you grow. All in one place!
2. Iconosquare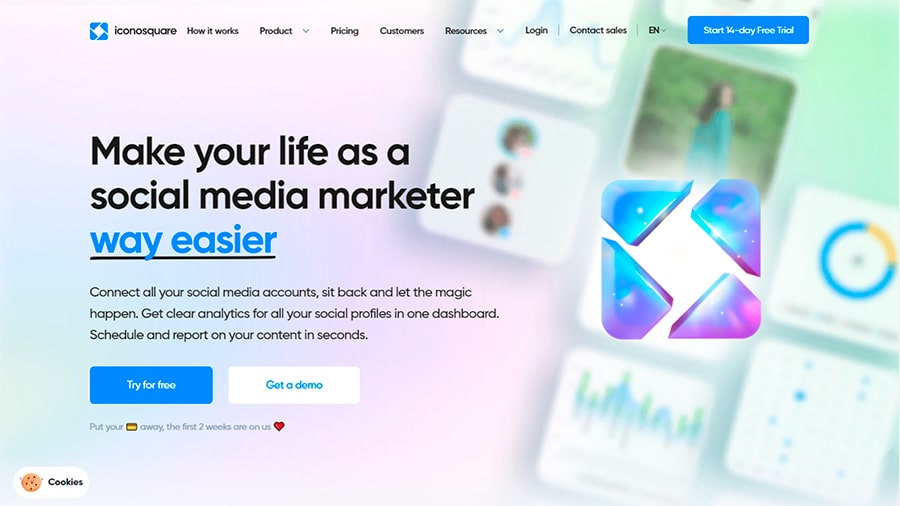 This digital marketing tool gives you interesting information about how your content is performing. The platform's detailed analytics will help you identify the best type of content to share with your audience, including your higher-performing pieces and the optimal times to post. 
Another key feature Iconosquare offers involves following competitors and providing in-depth data on their accounts. So, you can measure your content and your competence's performance in order to improve your own pieces and stand out.
3. Upfluence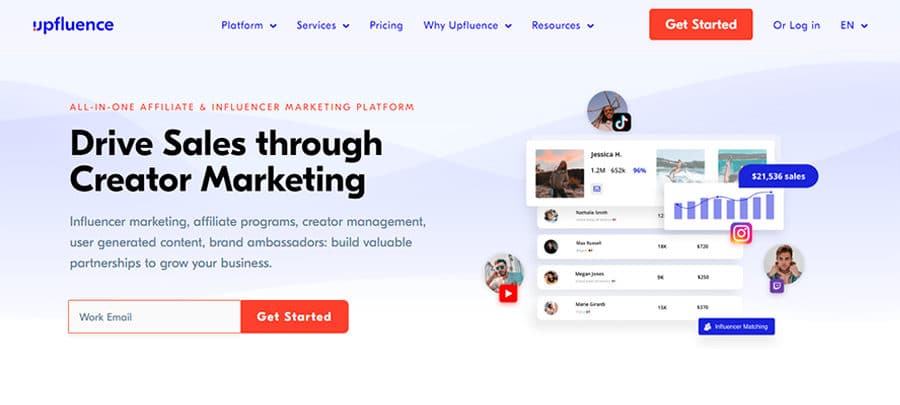 If you're looking to up your influencer marketing game, but aren't sure how to tackle it in an organized and optimized way, Upfluence is the place to go. This digital marketing tool is designed to help you build and nurture meaningful partnerships with creators.
This platform helps you find influencers who are a good fit for your brand, identify people in your following with a strong presence to add to your affiliate programs, and turn content creators into legitimate brand ambassadors. It makes managing and revising your collaborations at every step of the process a lot easier!
4. Creatopy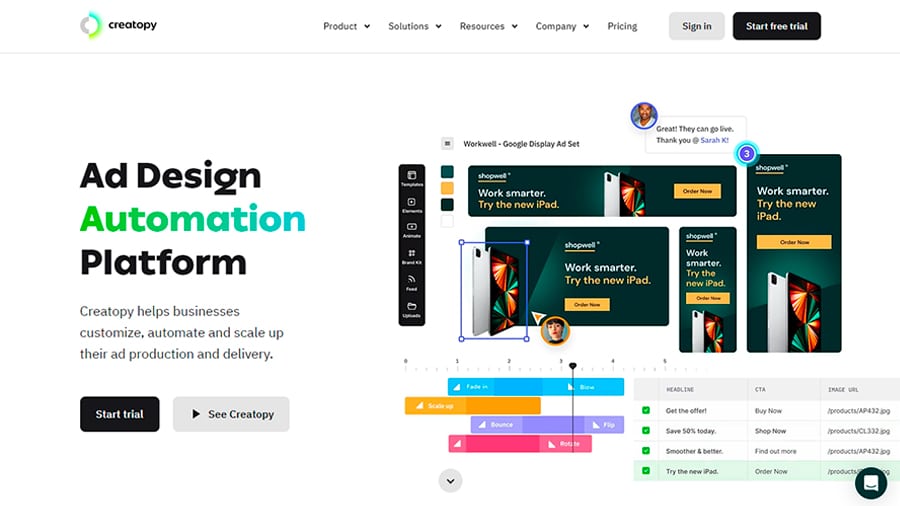 If you want to step up from Canva, this digital marketing tool will do wonders for you. Creatopy is a design platform that offers excellent templates and a big stock library of photos, audio, and video that you can use to create attractive and compelling visuals for your brand.
Besides being an easy-to-use and intuitive system, Creatopy allows you to set up a brand kit containing your logo, custom color palettes, and fonts to use to maintain consistency throughout your designs and speed up your workflow. Instead of starting your designs from scratch, you'll be able to optimize your work with carefully crafted templates!
5. Clearscope

Have you ever published incredible, interesting blog posts consistently to improve your SEO, but the expected results weren't coming? If the answer is "yes," Clearscope is an excellent digital marketing tool to help you with that.
With this platform, you'll be able to produce highly relevant content that matches what people are already searching for. It also offers you advice on how to improve your piece's SEO as you write them. Moreover, Clearscope suggests keywords and headers to use, as well as useful insights and example phrases to improve readability. 
6. Survey Monkey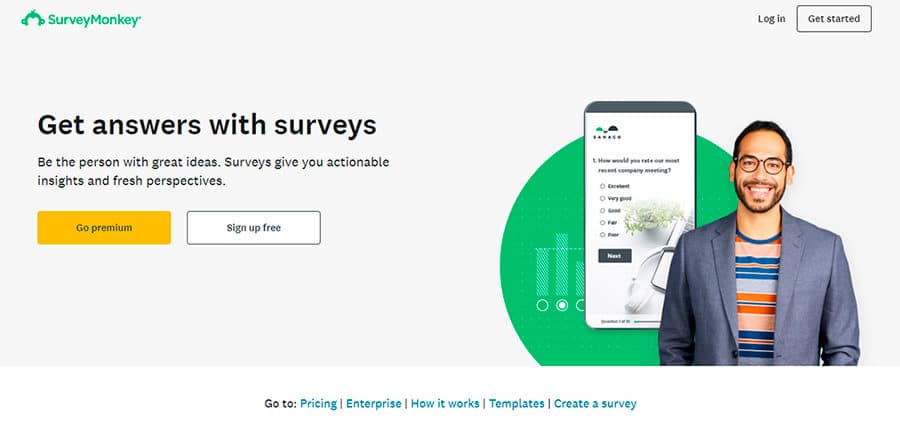 You may already be familiar with the following digital marketing tool, as it is a leading feedback management solution on the market. Survey Monkey supplies you with survey templates you can use to obtain responses from your audiences, along with written sample questions to use. 
With Survey Monkey, you can gather opinions on specific questions you ask, analyze the data, and find useful insights that will spur innovation and growth. You can use your website, social media, email, and other channels to share the survey and connect with people.
7. Moosend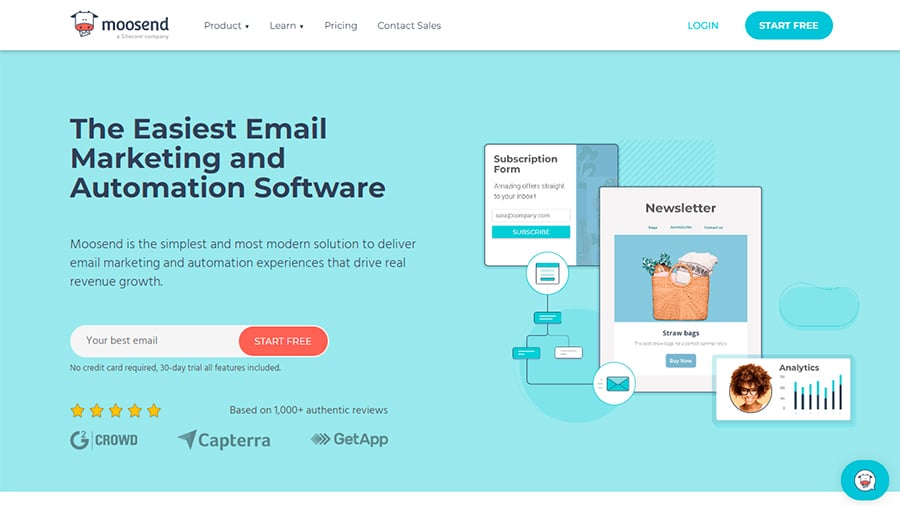 Moosend is a user-friendly email marketing tool that's optimal for companies that are just beginning to build their list. This software offers advanced segmentation features and allows you to organize your subscribers into tags. This, along with their automation options, will allow you to create personalized digital experiences for your customers and minimize unsubscribes without having to invest too much time.
What makes Moosend one of the best digital marketing tools for email marketing, is how it makes developing a campaign and personalizing content simple and intuitive.
8. ActiveCampaign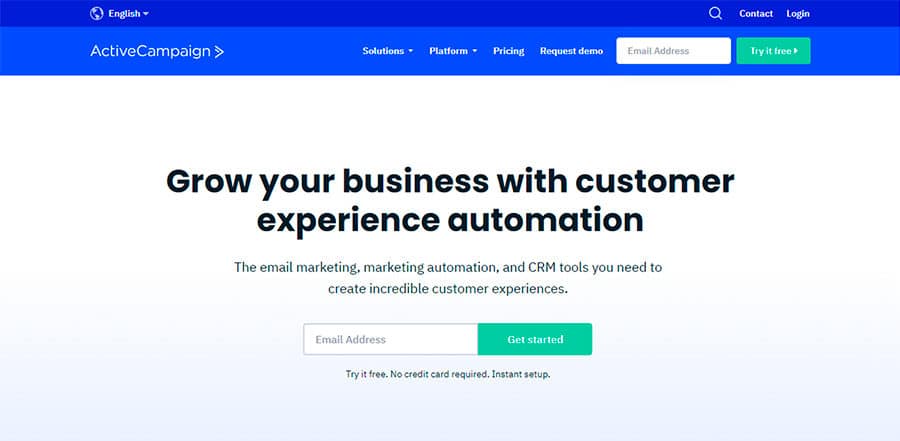 You've already compiled an email list and are currently sending emails to your customers as part of your campaign. But as your business grows, adding channels and new customer segments, and delivering a personalized and detailed experience to every customer becomes harder. That's where Active Campaign comes in.
This digital marketing tool removes barriers between data sources and teams by using data from your customer's entire lifecycle, which allows for deeper segmentation and more effective outreaches. With Active Campaign, you can customize the messages you send based on almost any parameter, avoiding mistakes like sending sales emails to customers who have already purchased that specific product, for example.
9. PersistIQ

This digital marketing tool allows you to upload a list of prospects and build campaigns to reach every single one of them by email and phone. With PersistIQ, you can also locate new clients and communicate with them via email campaigns, all while compiling all of your potential customer's data into a single, intelligent database.
Their automated features will also help you save time when writing emails by organizing everyone you contact in the program's system, and tracking your campaign's results. In fact, their developers say it was designed to save you 10 hours per week. Wow! 
10. Audiense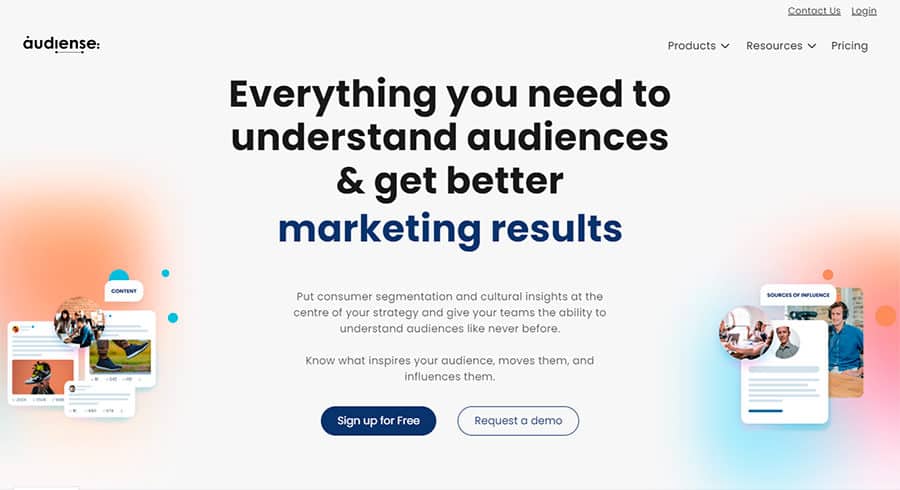 Audiense helps companies both identify and segment their social media audiences, making it easier to run targeted campaigns and gain better knowledge of your buyer personas.
What makes Audiense one of the best digital marketing tools is how it takes social listening to the next level, digging into demographics, personality traits, and beyond. This will help you better understand your target market and make all of your efforts to reach them more effective. 
9. Clearbit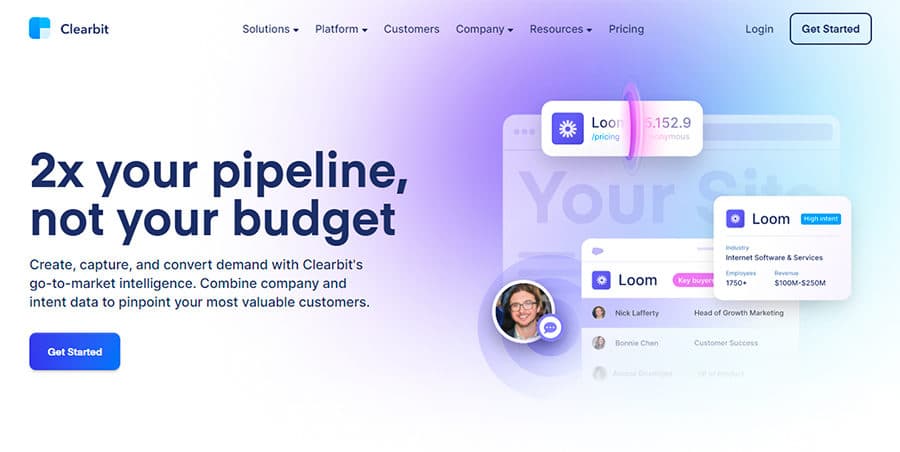 Digital marketing tools can be helpful to any type of company, that's why I've decided to address this one.
is a platform developed for B2B companies to give them the data they need to find quality leads quickly. 
Whenever people are researching a product or service, oftentimes they choose to do so in anonymous mode to avoid leaving tracks. This can be quite inconvenient if you're trying to learn more about your prospects. Luckily, Clearbit can tell you which businesses are behind anonymous website traffic. They also offer a long list of firms and data points you can use to create a comprehensive picture of your ideal customer profile. 
All of this makes it one of the best digital marketing tools there is for B2B marketing strategies!
12. Brand Mention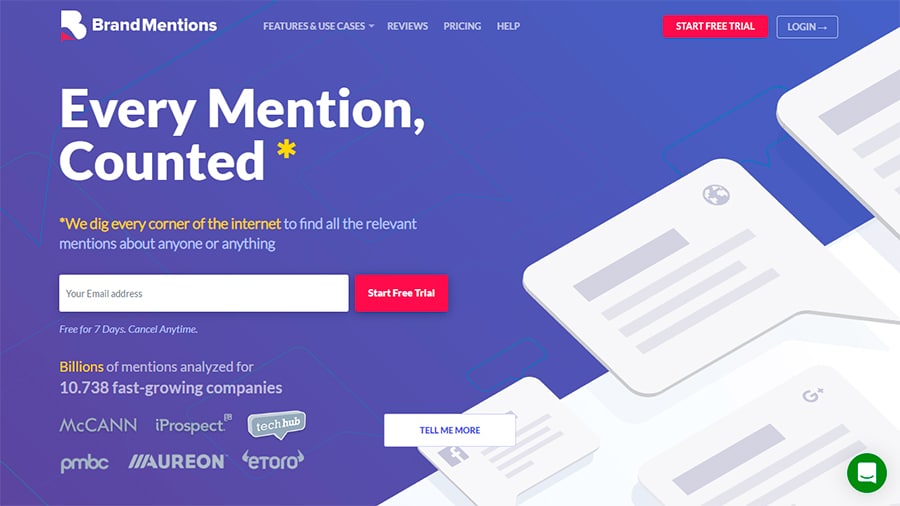 Brand Mention is a digital marketing tool you probably didn't even know you needed until now. By leveraging it, you can gain a better understanding of how customers are interacting with your brand on social media and what they're saying about it.
It provides real-time metrics that help you discover how your customers perceive your brand and allows you to monitor your brand image online. This way, you can be alert in case a complaint pops up often or any other issue arises. Better be safe than sorry!
13. Unbounce – Digital Marketing Tools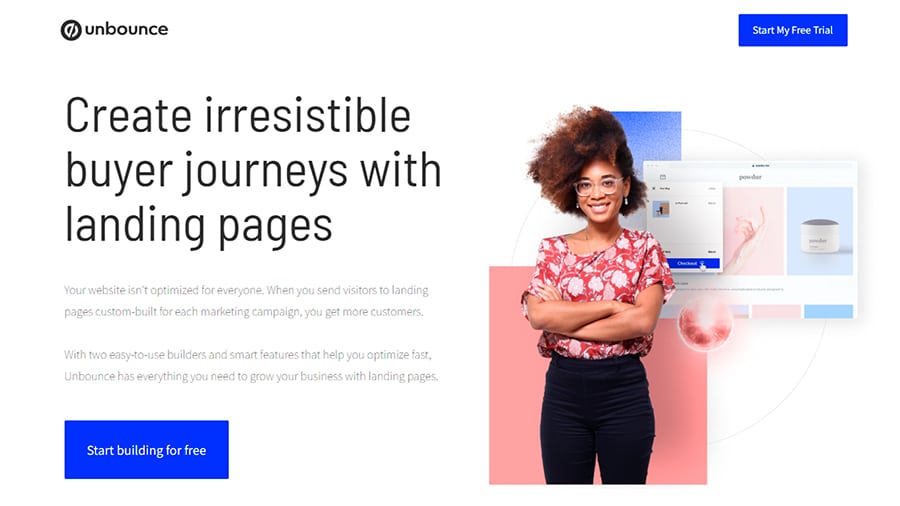 To create, improve, and publish new landing pages efficiently, Unbounce is one of the best digital marketing tools you can harness. It even provides A/B testing and analytics to quickly determine which creatives, calls-to-action, and other page elements are the most effective.
Thanks to their drag-and-drop functionality and pre-built templates, it's easy to create an attractive design that your visitors will love. Meanwhile, their analytics make it crystal clear which of your variants are the best performers, so that you can focus your efforts on them.
14. OptiMonk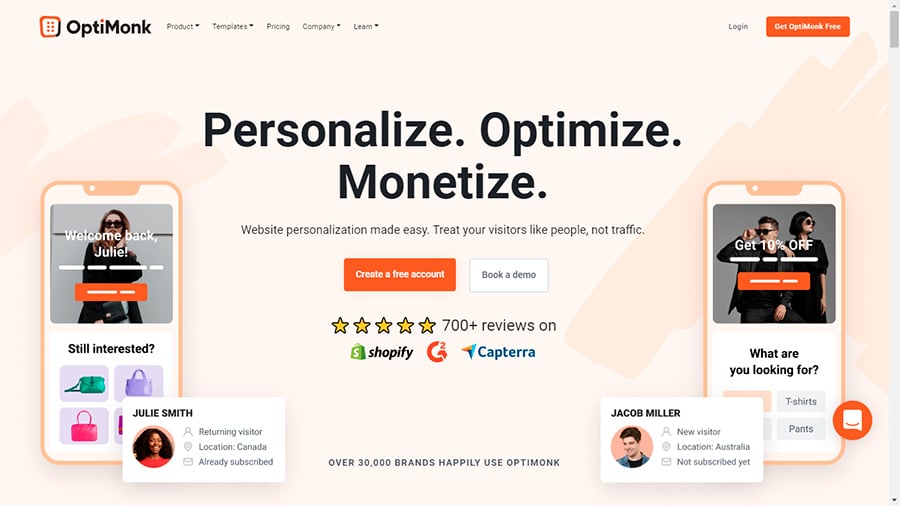 Optimonk uses behavior-based targeting to develop pop-up ads that aren't disruptive and speak to each of your visitors personally. Besides that, this platform boasts several templates with pre-established average click-through rates that you can use and customize. This feature is particularly useful for those who aren't that experienced in advertising.
What makes this digital marketing tool so great is how easy it is to develop personalized and visually attractive pop-ups with it. You'll definitely see your conversions grow in no time! 
15. Unless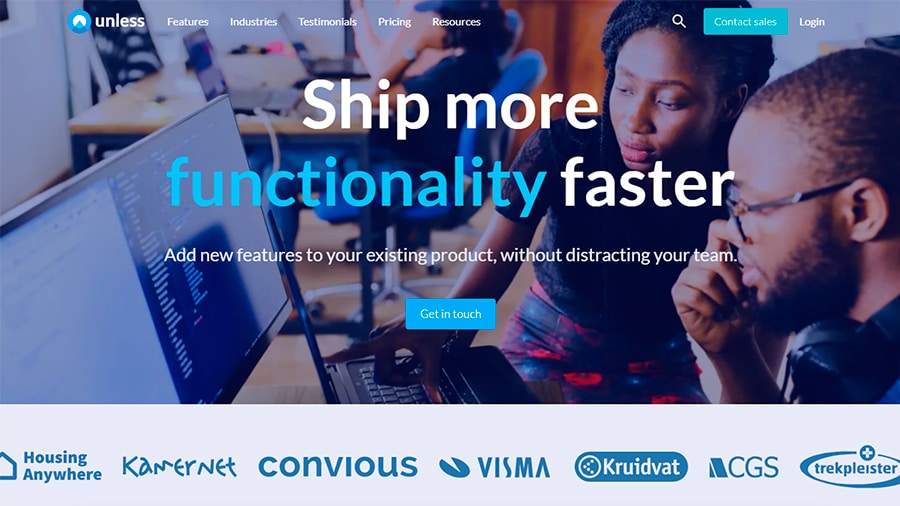 We've talked about using behavior-based analytics to improve your pop-ups before, but did you know you can do the same with your website? Unless does exactly that, allowing you to keep track of your visitor's online behaviors, data, and actions.
This type of analysis goes beyond A/B testing, as it bases your optimization efforts on actual individuals. As a result, you'll get better user engagement rates, more conversions, and better earnings.
16. Proof – Digital Marketing Tools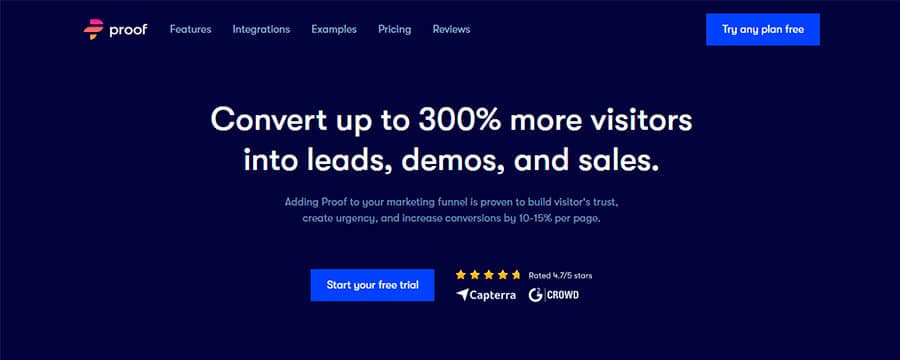 The particular reason why I consider Proof one of the best digital marketing tools, is something that sets it apart from the rest. It's one of the few that takes advantage of human psychology to boost your conversion rates. 
This tool knows that social proof is crucial to positively influence a prospect's actions, attitudes, and beliefs, and has developed software that displays other visitors' recent activity as notifications on your website. The thought of missing out on something good encourages users to convert without making your brand seem pushy or overbearing.
17. Answer The Public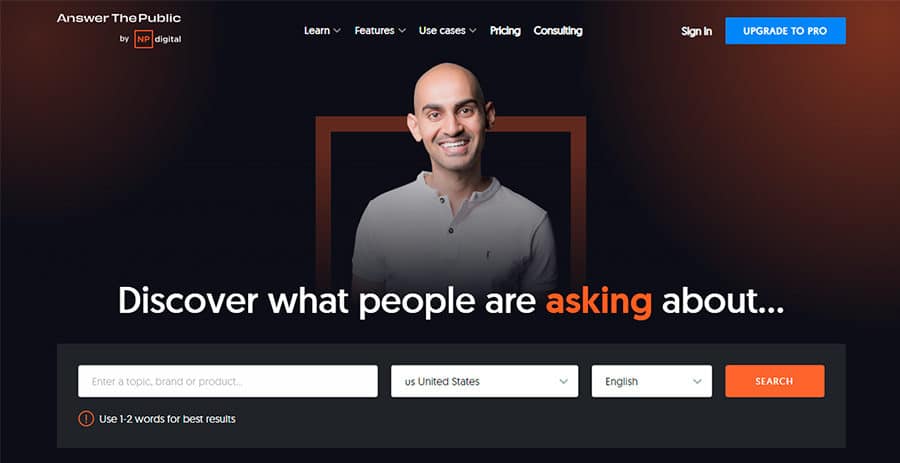 The effectiveness of longtail keywords has skyrocketed lately, as users are opting for looking up full questions on their search engines. This digital marketing tool takes advantage of this SEO trend to complement your marketing efforts.
Whenever you search for a particular topic, Answer The Public shows you related questions that people are actually asking all over the internet. This gives you the perfect opportunity to find long-tail keywords that you can target in order to boost your chances of generating organic traffic.
18. Moz Pro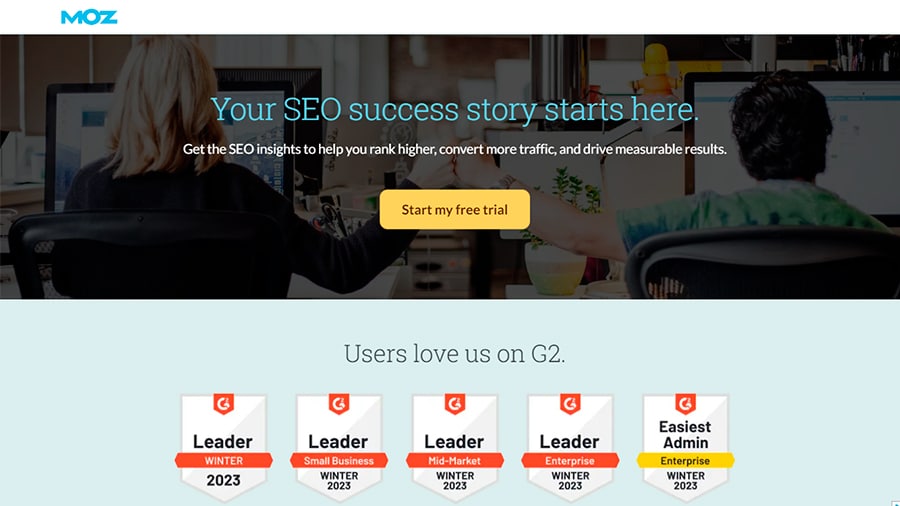 Moz Pro is a well-known piece of software for search engine optimization, and with good reason. It's one of the best digital marketing tools for SEO purposes because you'll get insights about everything from the best keywords to use in your content, the quality of the links pointing to your website, or your domain authority.
With all of this information, you can see how likely your website is to rank highly in the SERPs and start measuring the results of your SEO efforts. Then, you can use this information to map out exactly what needs to be done in order to improve your ranking.
19. Keywords Everywhere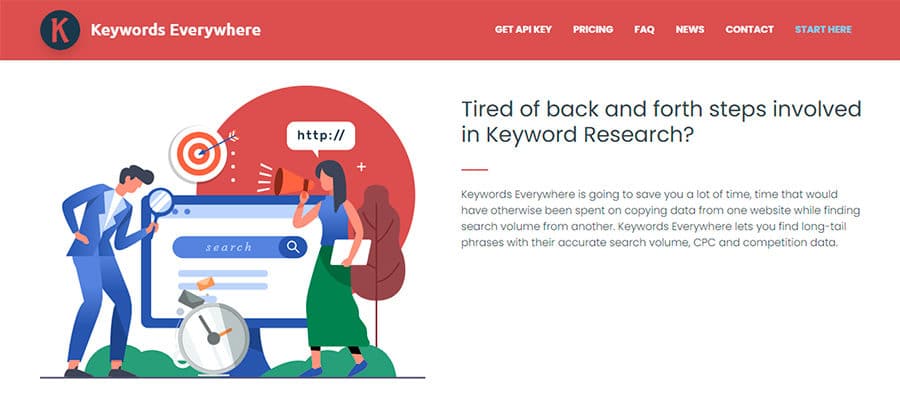 Speaking of the best digital marketing tools for SEO, here's one that you won't regret adding to your repertoire.
Keywords Everywhere works as a Chrome plugin, so every time you enter a query on any search engine's search bar —not just in Google!—it'll quickly display the term's monthly search traffic, CPC, competition, and even historical monthly trend data for it. With this platform, you can make keyword research a lot more efficient!
20. Kissmetrics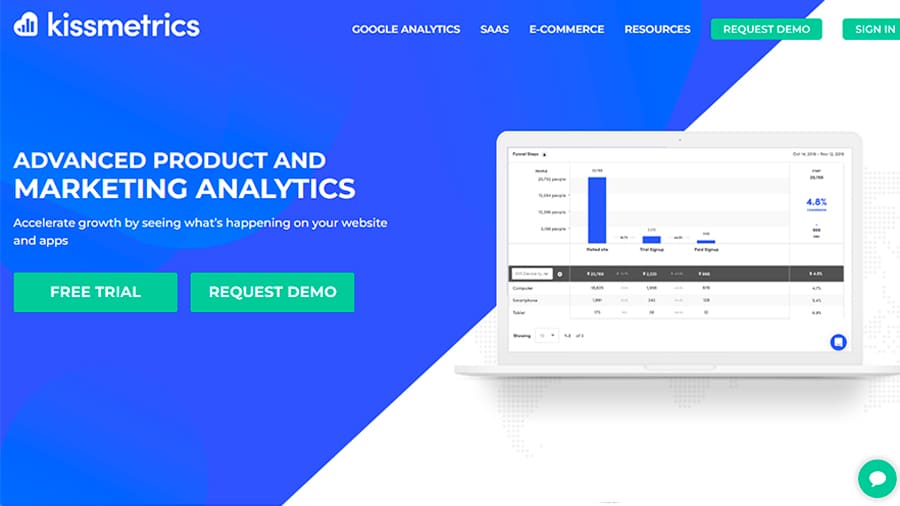 Kissmetrics is an analytics platform that allows you to track your website's visitors, following them on every step of the user journey. It identifies individual visitors and ties every action on your site to a particular person, singling them out even if they're using different devices or browsers.
What makes Kissmetrics stand out among the best digital marketing tools is that it helps you gain an understanding of your customer's user journey and the roadblocks they may find. Once you improve upon those specific issues, you'll see those conversion numbers go up!
21. Hotjar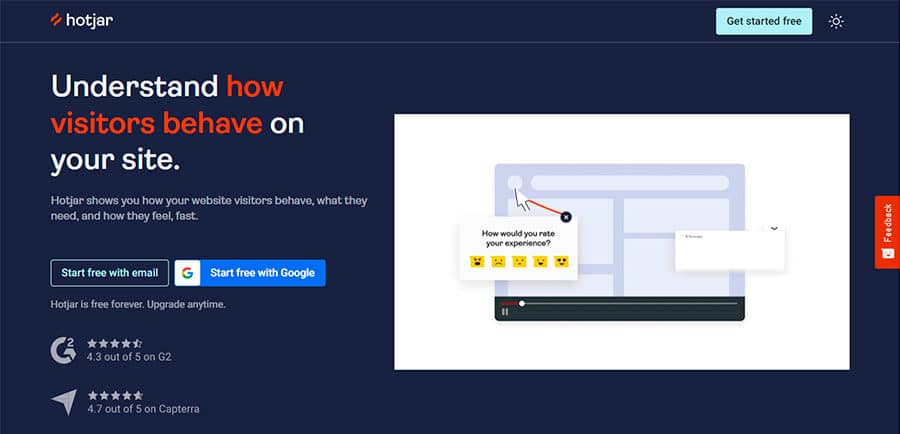 Similar to the previous digital marketing tool, Hotjar is an analytics and feedback program that allows marketers to track user behavior on a website. Through heatmaps and actual video recordings of your visitor's journey, you can clearly see where people are or aren't clicking.
With Hotjar, you can, for example, measure the effectiveness of a website's design. If you see certain places where your visitors aren't clicking, that's where you need to target your efforts.
22. Visme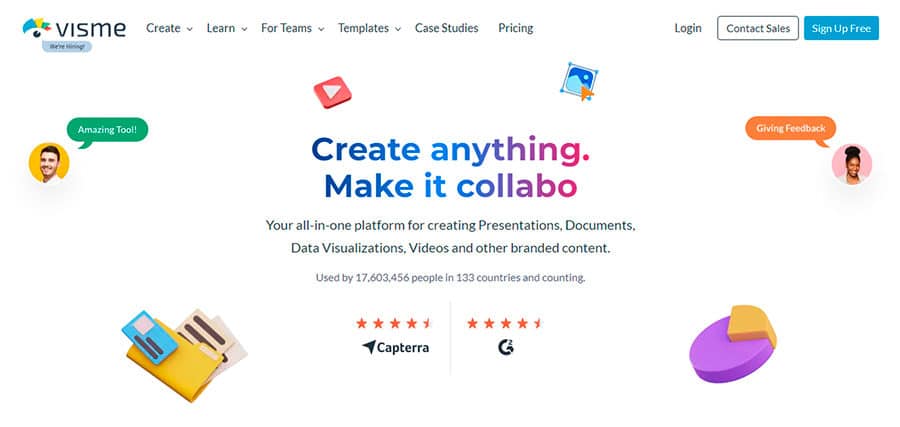 Your team probably compiles daily loads of data from various sources and different analytics tools, but this information ends up being useless if you can't share it and nobody understands it. That's where Visme comes in.
This digital marketing tool helps you break down hard data into interesting and easy-to-digest presentations and visualizations. One of its most useful features is that it lets you pull data from external sources to make presentation creation in a snap. With Visme, sharing information— and making sure it reaches its destination— is easier than ever.
23. Trello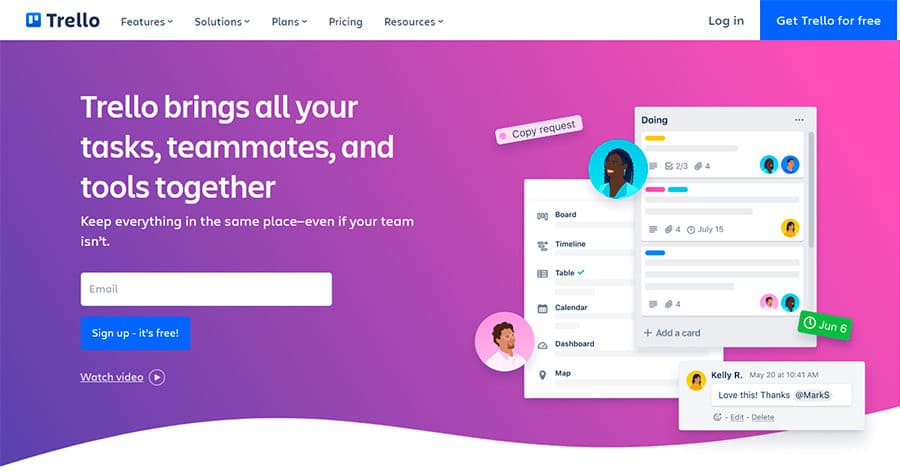 Our current reality often has entire teams working remotely from their homes and even in different countries. For this reason, a management tool like this one is fundamental now more than ever.
Trello allows you to create projects and assign different activities to your team members. Project managers believe this is one of the best digital marketing tools they've come across because they have everything in one place. For instance, they can easily check who's in charge of designing, writing, editing, or even publishing a post.
24. Statista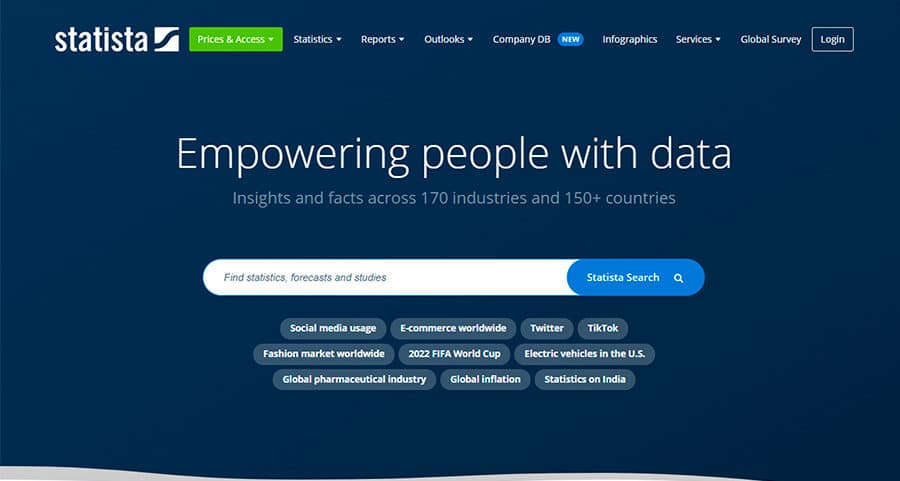 Statista is a tool you need to know. This platform, which uses cloud technology, enables you to find statistical data on different market sectors and industries by simply visiting its website and entering a topic in the search bar.
I believe it's one of the best digital marketing tools you'll find because it equips you with countless graphs, statistical dashboards, and market research data you can use to understand your segments, build buyer personas, and even develop content marketing campaigns.
25. Zoho Sales IQ – Digital Marketing Tools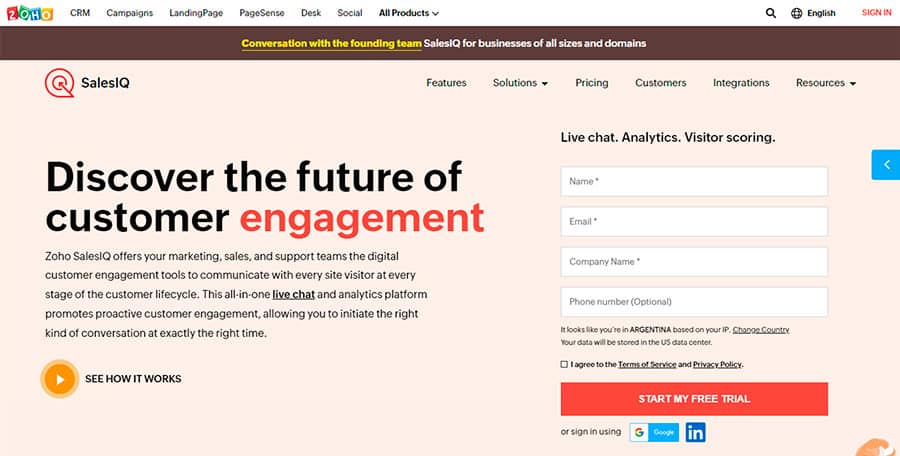 People can go online from anywhere at any time. This is great for customers, but for business owners, the need to be available 24/7 can take a big toll. Managing customer expectations while still balancing a good work and life relationship is not easy, but automatic chatbots can give you a big hand. 
With an intuitive and easy-to-use layout, Zoho offers automatic bots with pre-programmed responses you can use to be available to your customers even during closed hours. But what makes it one of the best marketing tools on the market is how it provides insights into your conversations, which will help you get to know your visitors and assist them in the best way possible.
How Can Yum Yum Digital Help with Your Digital Marketing?
Digital marketing can be a lot of work, — we certainly know.
As the digital environment constantly changes, there are always new developments to keep up with, but hardly enough time to learn everything about them. At the same time, you have to keep an eye on your competitors, to make sure you aren't lagging behind.
If you're struggling to coordinate between different platforms and stay up to date with the best digital marketing tools for your strategy, maybe an agency that can do the work for you is what you need. 
Here, at YumYum Digital, we believe that with a small, highly professional team, and high-quality actions, your digital marketing strategies can skyrocket in a short amount of time. Quality over quantity, that's what we say.
Be it video production, branding, content writing, guest blogging, SEO, web design, or web development, by partnering with a professional agency, you can centralize all of your strategies and stop worrying about managing all of the different tools on your own.
If this sounds like something you'd need, drop us a message! Whatever your challenge is, we would love to discuss it!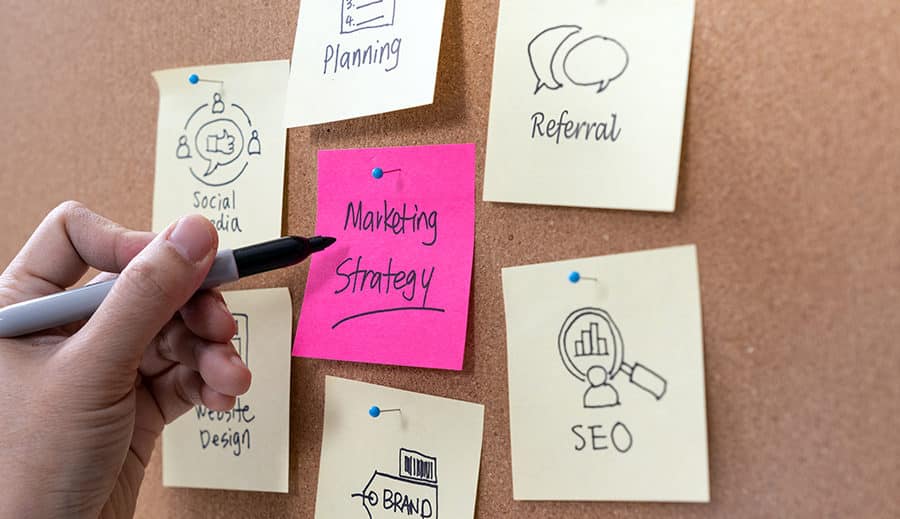 Wrapping Up
As you can see, there are digital marketing tools for everything, from ad design to landing pages and writing emails, from analysis to work organization and optimization.
Taking advantage of them—or not doing so—can be a game-changer for your marketing actions. Not only will they save you time and money, but they can also help you improve and optimize your strategies, ultimately leading to more sales and better rentability.
Most likely, you won't use all of the tools we mentioned today. But you can certainly use it as a guide to what the market is offering and choose the ones that best fit your needs.