Choosing the right digital marketing company to work with is paramount if you want to reach the right audience and achieve all your marketing goals with an effective campaign.
But it's not easy to find a talented company that has the experience and skills needed to ensure excellent results. Luckily, I'm here to help! 😉 In this piece, you'll find a list of the 12 best digital marketing companies out there, all of them more than capable of taking your digital marketing strategy to the next level. 
Keep reading to find out who they are!
Why You Need a Digital Marketing Company
The internet has taken over our lives, there's no denying it. Consequently, the way we discover businesses and make purchases has changed. Just think about how people come across new brands and discover their products and services through social media posts, YouTube ads, email campaigns, and a long list of etceteras.
All of the strategies I've mentioned above are examples of digital marketing in action. See why it's crucial to start working on your own?
If you want people to become familiar with your business and transform into loyal customers, a good digital marketing company can give you a hand and help you perfect your strategies. Moreover, they take care of the hard work for you, analyzing your business and your niche and implementing the tactics that will best suit your goals.
Top Digital Marketing Companies Out There
But I think that's enough talking for now. Let's get down to business and go over my list of the top companies you can work with.
1. Yum Yum Digital – Digital Marketing Company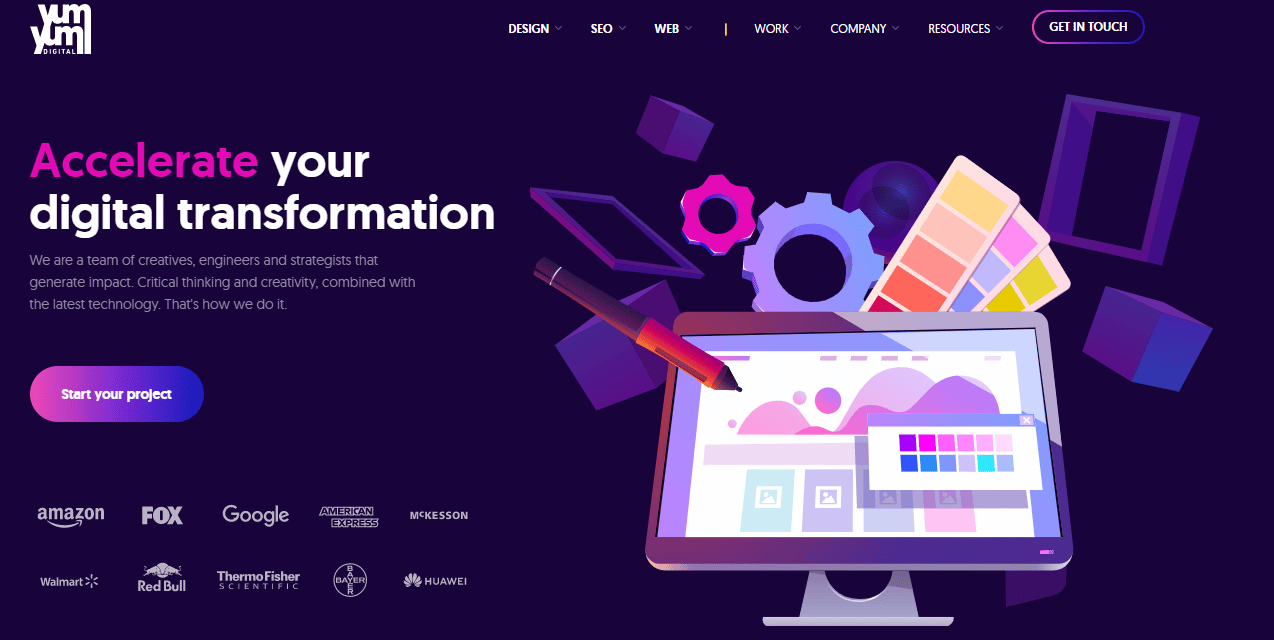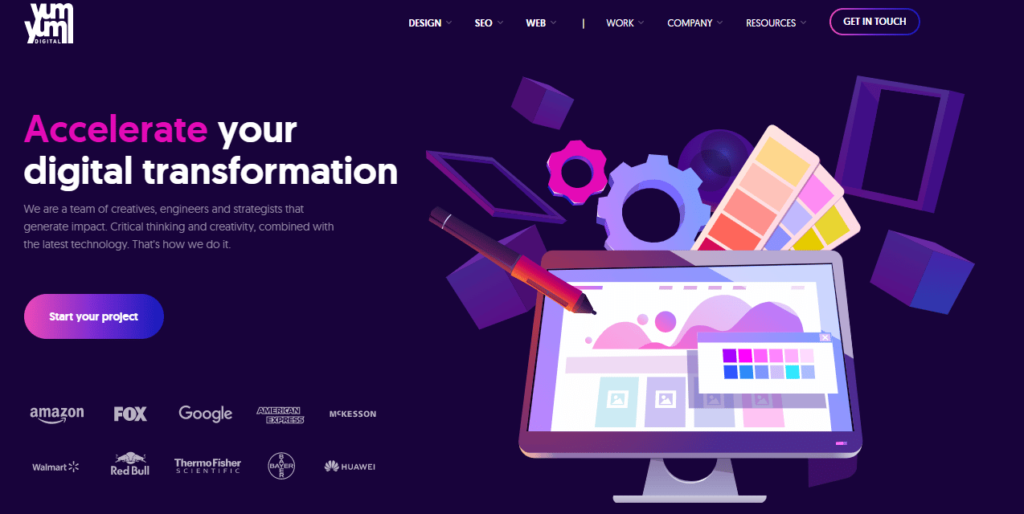 This passionate team of marketers and creatives have been working hard to become one of the best digital marketing companies in the industry, which makes them one of the top choices for all your digital marketing needs. Their mission is to make compelling content that effectively connects your brand with your audience.
Pros: No matter the size or industry of the businesses they partner with, Yum Yum Digital equips them with fully customized strategies that are guaranteed to produce results. Just to give you an example of their work., their link-building strategies have helped some of their clients get featured on websites with DA 80+.
Do you want to know their secret? Content marketing carried out by professionals with many years of expertise working on projects of varied scopes, each of which counts with the pre-approval of the sites they work with. Even the smallest details are taken care of, and you can rest assured that their strategies are completely whitehat.
Cons: Yum Yum might not be one of the biggest names out there (but they certainly aim to be soon!), so instead of getting 20 pieces of content in a week, you'll get a few ones that are top-notch and fully customized to fit your business' tone, image, and goals.
2. Social SEO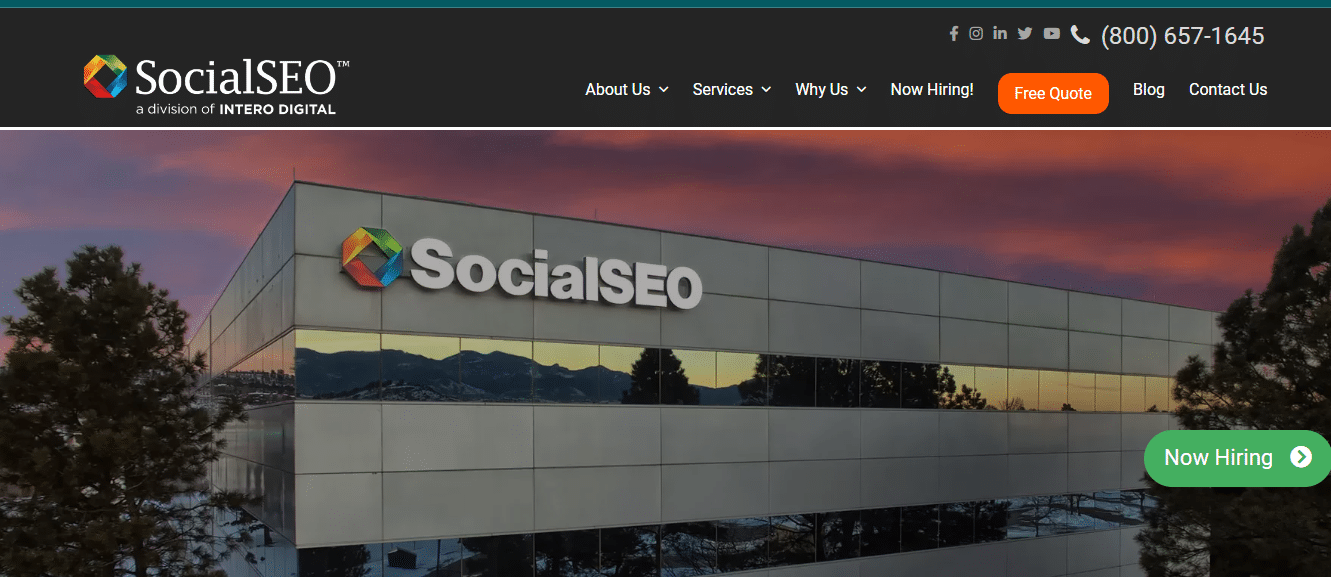 A digital marketing company with a focus on customer and employee retention, they specialize in SEO, SEM, social media, video production, and email marketing. Their founder has been part of the digital marketing industry for almost 20 years, so you can trust the team knows what they're doing.
Pros: They boast ample experience working with major international brands and small local businesses alike. Over the years, they've polished their project policies and now work with month-to-month agreements and require a 30-day notice to stop services.
Cons: One possible issue with the team at Social SEO is that they have more than 100 employees. This might translate into a less tailored approach while working with your needs.
3. Siege Media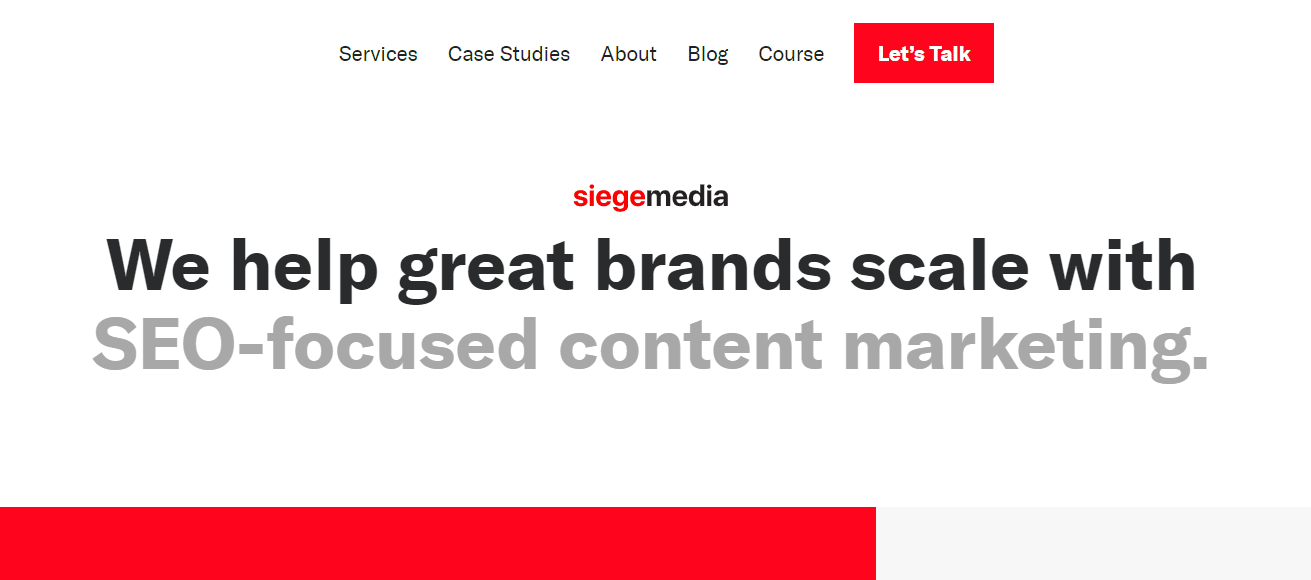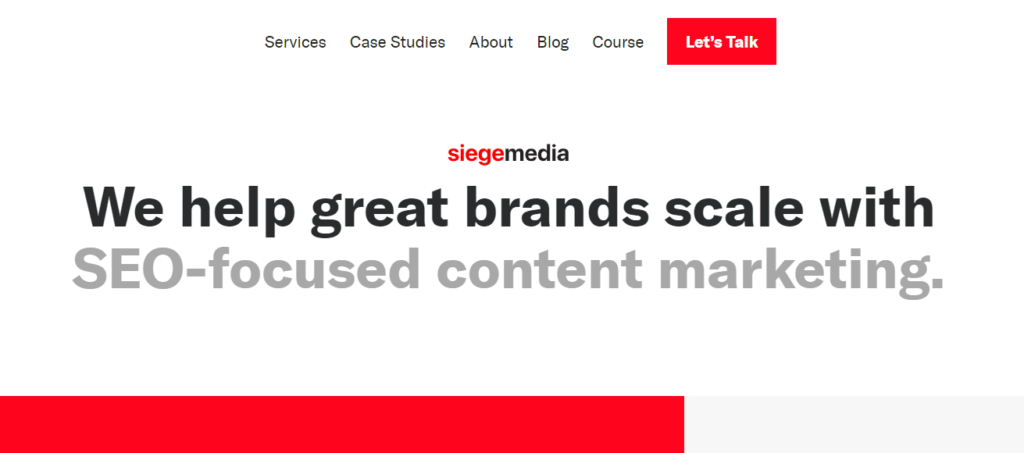 The people at Siege Media pride themselves on their "scientific approach" to creating top-tier content with excellent rankings, where every step is carefully researched as in a real lab. While their primary focus is on SEO, they also give the design aspect of their projects much importance. Their work isn't only effective, it's aesthetically amazing.
Pros: They offer optimized blog design, to find high-value ranking opportunities for their clients, and create a strategy based on achievable ROI and generating organic links. They also manage content uploading, so clients don't have to worry about it.
Cons: They aim for links with only a DR 40 average, which might not be optimal if you're looking for high-quality backlinks. Additionally, they require a 12-month contract to work with a client, so you might want to look somewhere else if you need something short-term.
4. Ignite Visibility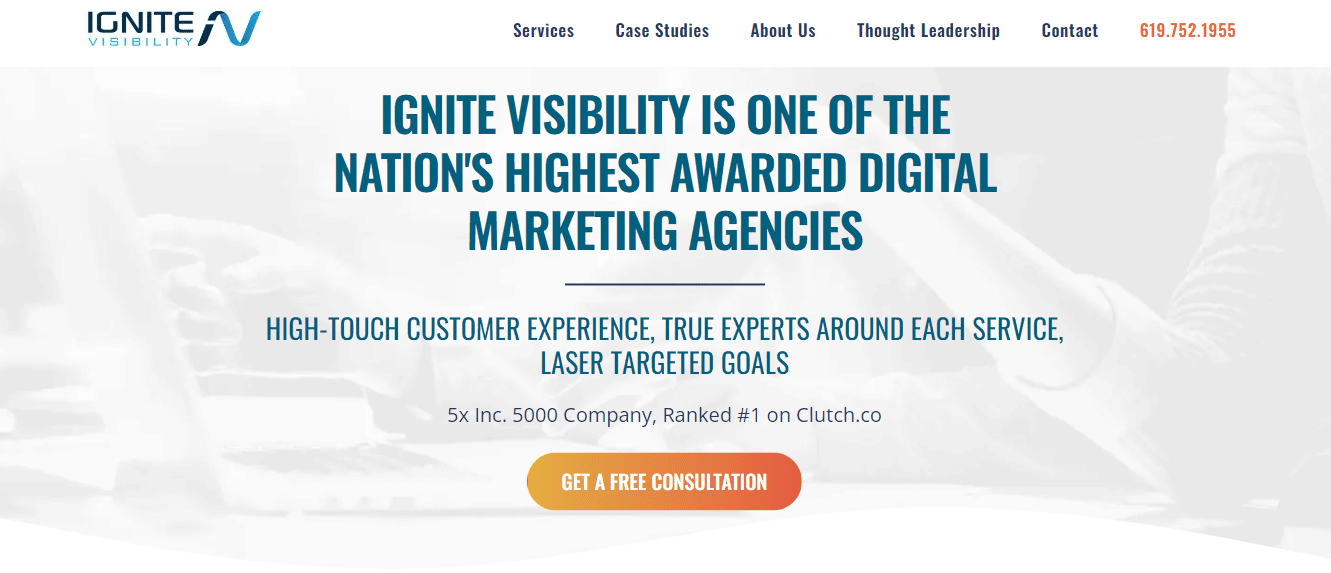 This digital marketing company was founded on the principles of relationships, responsiveness, and results and they apply those ideals to every project they work on. They specialize in multichannel digital strategies, SEO, social media, Amazon, and more.
Pros: They use innovative techniques such as a "forecaster method" and a "certainty tech software" that project the potential traffic gains from each channel to develop the most effective strategy for their clients. They also provide industry analysis, competitive benchmarking, and a timeline for their strategies.
Cons: There have been some complaints about them not being able to generate high-quality backlinks, and making suggestions that would cost more money than the allocated budget.
5. Bluetext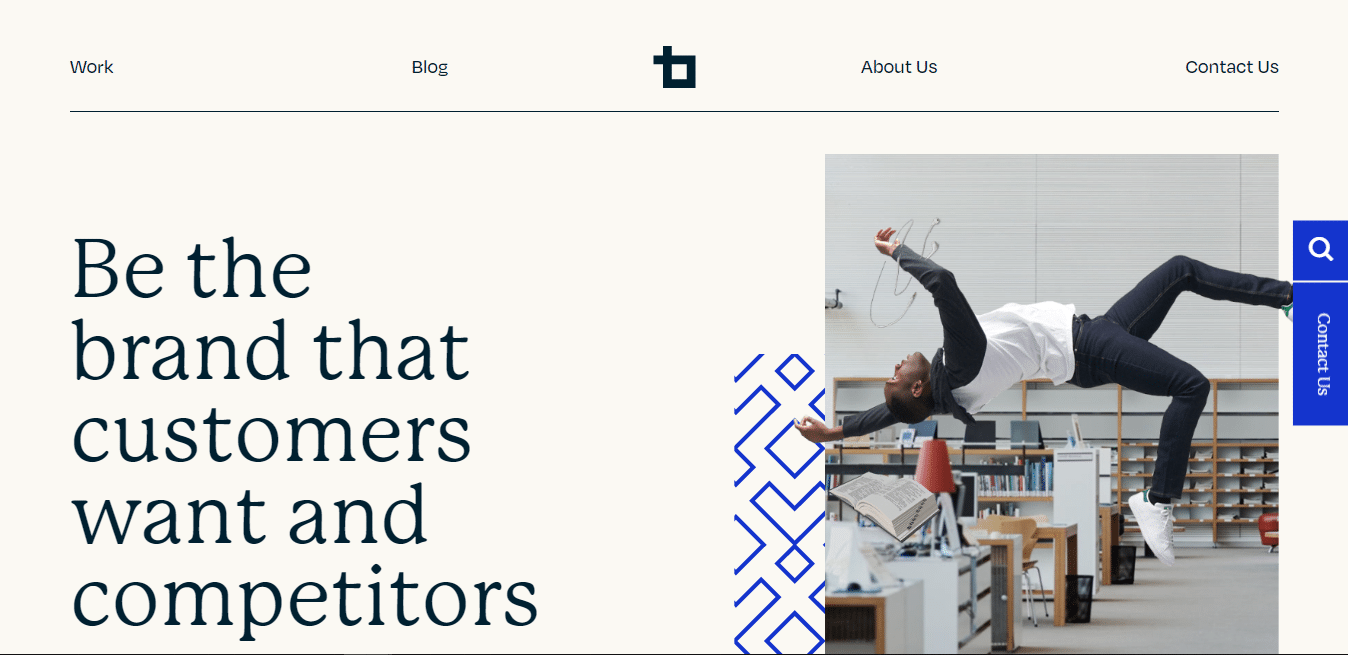 One of the top digital marketing companies around, this team works with businesses in all verticals, including B2B strategies as well as B2C, and B2G. They want to help businesses win new loyal customers through effective branding, marketing, and public relations.
Pros: They've become a one-stop shop for digital marketing, offering comprehensive website and mobile design and development, creative services, UX design, content management systems, and more. 
Cons: Their minimum project size falls on the expensive end of the scale, so it might not be within most small businesses' budgets.
6. Brand Vision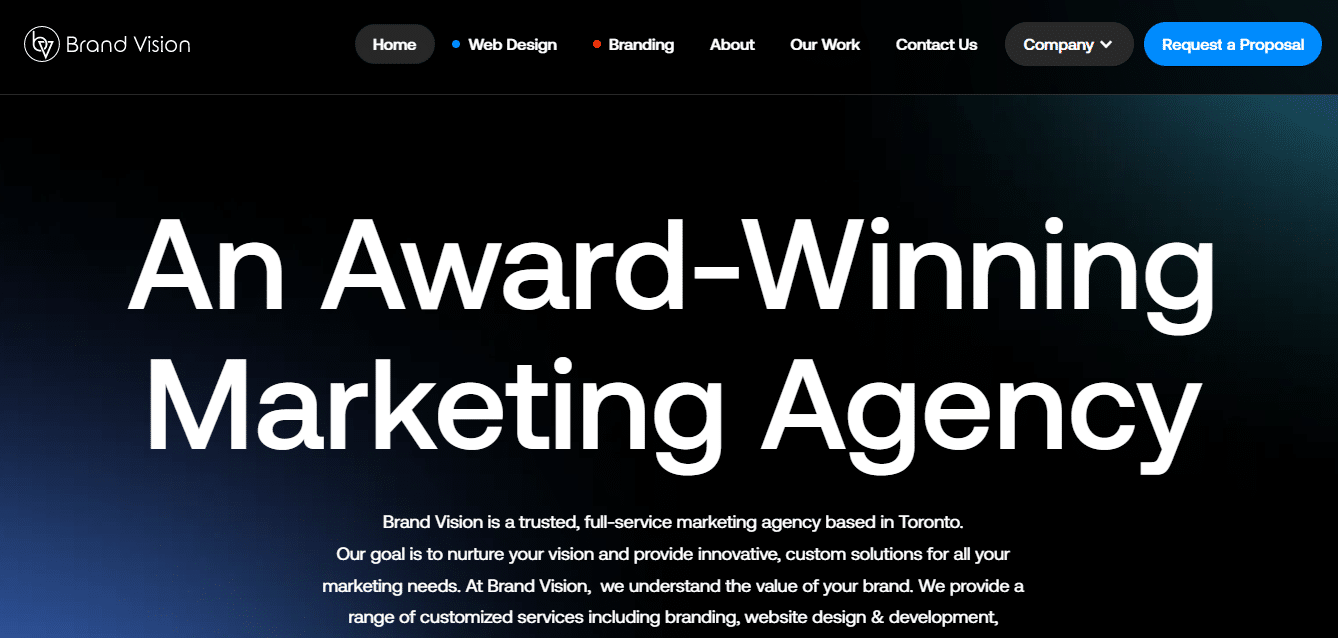 Brand Vision's goal is to nurture its clients' ideas and bring them to life. They provide innovative, tailored solutions for all digital marketing needs, focusing on the importance of branding.
Pros: They start their projects by researching a business' target audience, and then build a strategy based on it that maximizes time management and resources.
Cons: Some past clients have complained about the initial interview being very short, and the discovery phase lacking depth. Additionally, the company is used to working with larger clients, so they might not be too familiar with the needs and requirements of smaller businesses.
7. Beacon Digital Marketing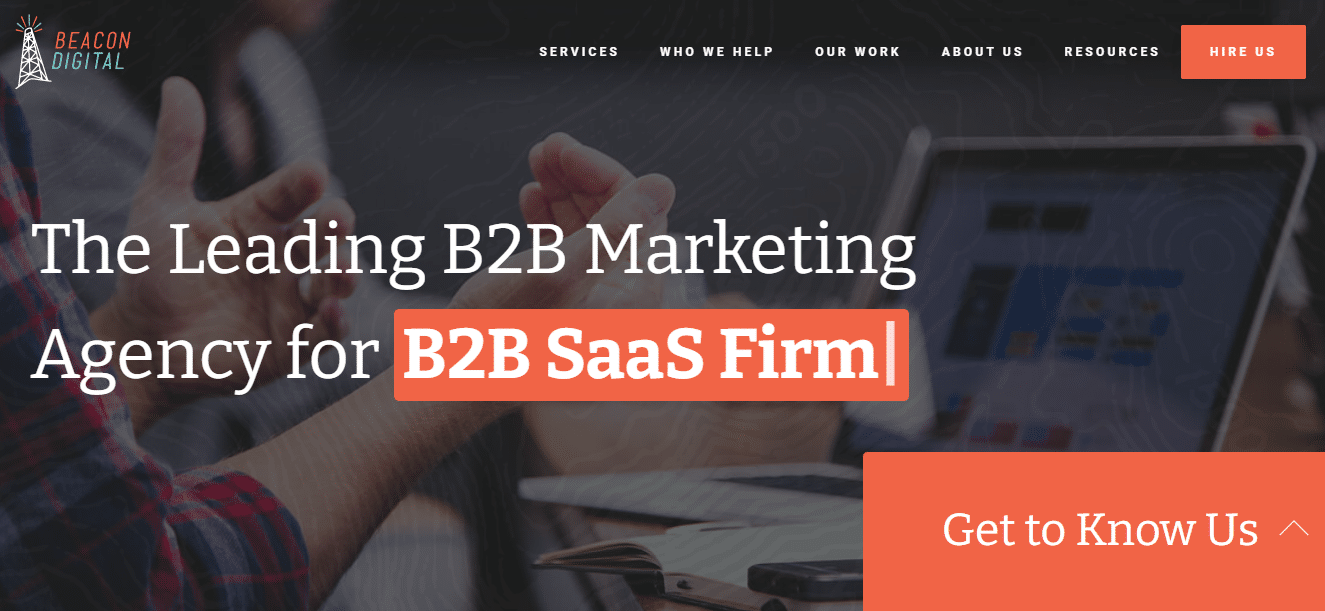 Another top digital marketing company, the team at Beacon Digital is empowered by diversity, curiosity, and innovation, which allows them to come up with unique solutions for the brands they work with. Their specialty lies in providing marketing services to cybersecurity, fintech, risk management, and SaaS companies.
Pros: They assemble a special team of experts for each individual project, ensuring the best results according to every client's specific requirements. Moreover, they have a special approach to keyword research and reporting that most brands can benefit from.
Cons: The only downside to this company is that they exclusively cater to B2B companies, so they're not your best choice if you have a B2C business.
8. Effective Marketing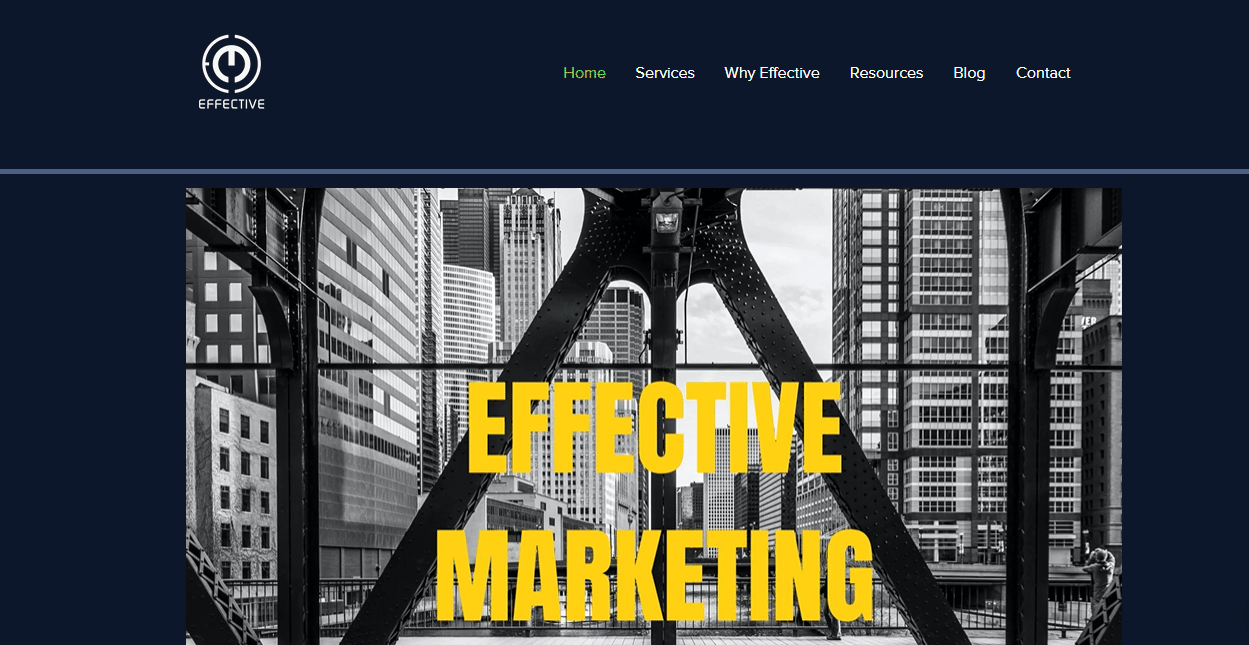 This digital marketing company's vision is to make clients think of their services as investments, rather than expenses. They back this up with a high level of precision and control of their strategies, where every detail is carefully considered.
Pros: They define themselves as a company with a "big agency's talent, without a big agency's overhead", so there are no extra costs coming out of nowhere. They also have their own exclusive system for budget setting, conversion modeling, and performance reporting.
Cons: While online reviews are mostly positive, many clients have remarked that their prices are on the more expensive side compared to other similar companies.
9. Brolik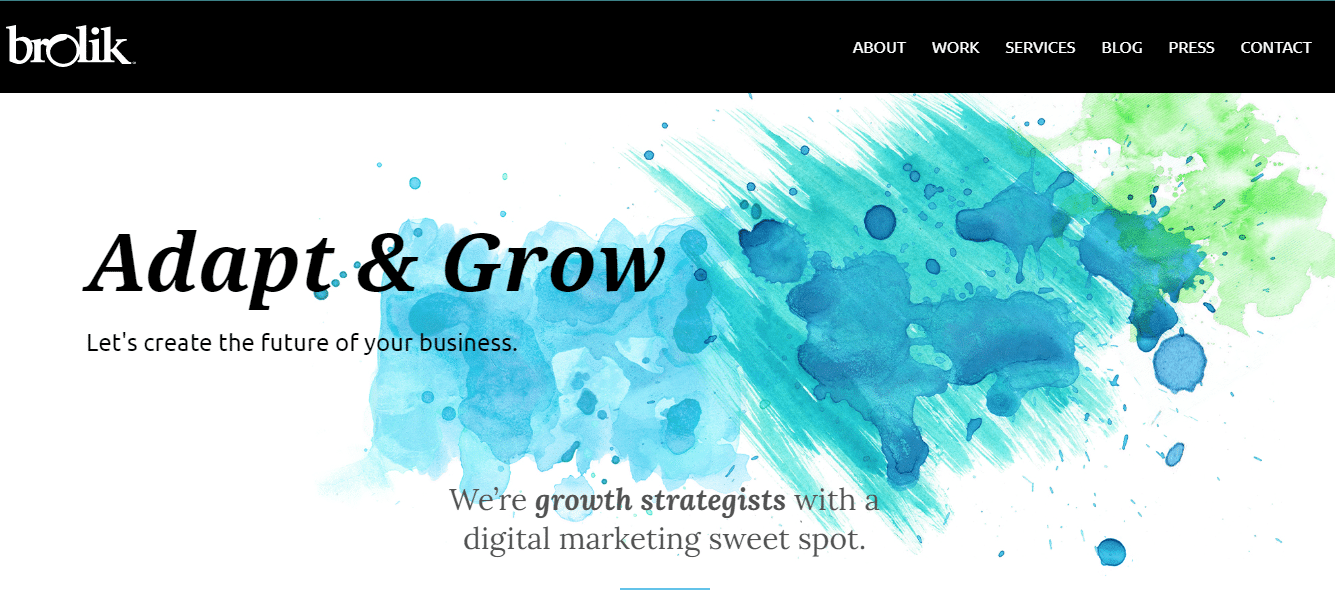 Brolik provides long-term services specifically to small and medium-sized companies. Born in a college apartment back in 2004, they have become a full-service digital agency and one of the best digital marketing companies around, boasting many success cases over the past decades.
Pros: Their work methodology incorporates creatives, strategists, designers, and developers as needed, and their projects are crafted around their clients' goals and audience, and not on marketing tactics alone.
Cons: They mainly cater to medium and small businesses, so consider choosing another agency if you don't fit the criteria.
10. Disruptive Advertising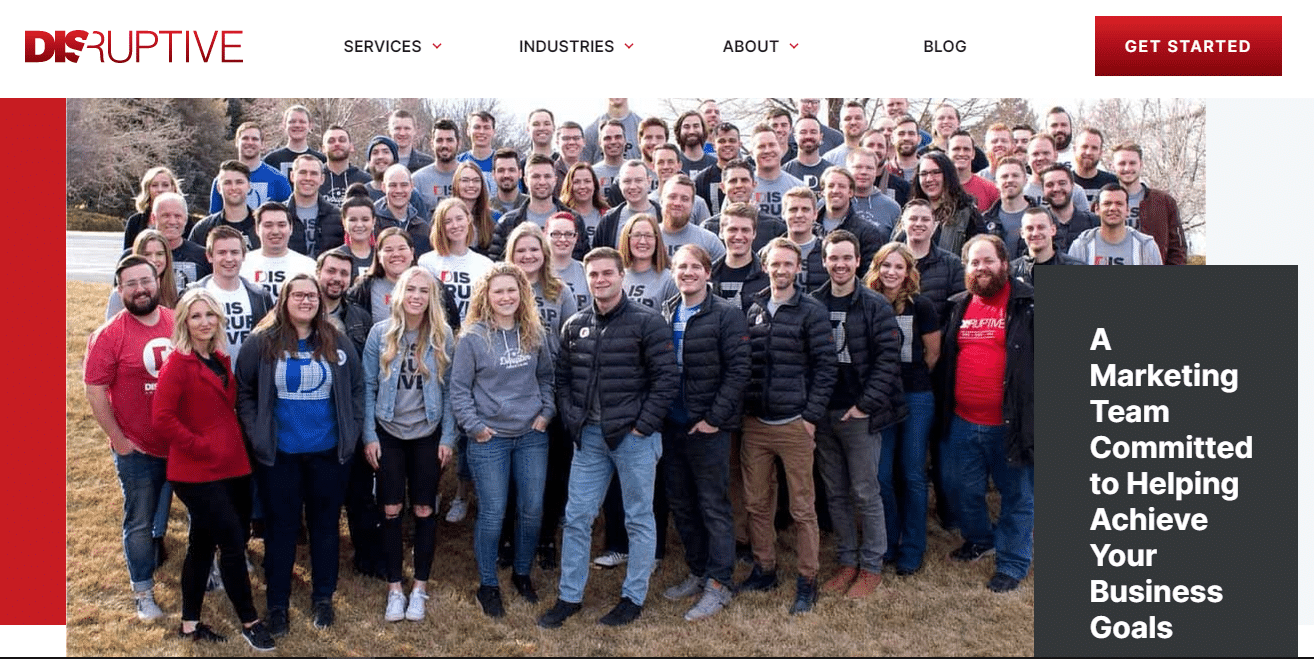 Disruptive Advertising is not here just to make money, but to make an impact and build long-lasting relationships with the brands they work with. They want to achieve sustainable and long-lasting growth for both their agency and their clients.
Pros: The Disruptive team is intent on finding out the why behind the businesses they partner with, their goals, and the impact these goals can have on their target audience. Taking all of this into account, they craft an authentic marketing strategy for each client.
Cons: Some past clients have complained about schedule delays, and how project management could be improved a bit. Moreover, in their own words, they work with businesses that "spend tens of thousands of per month on their marketing" so keep this in mind while evaluating them.
11. Power Digital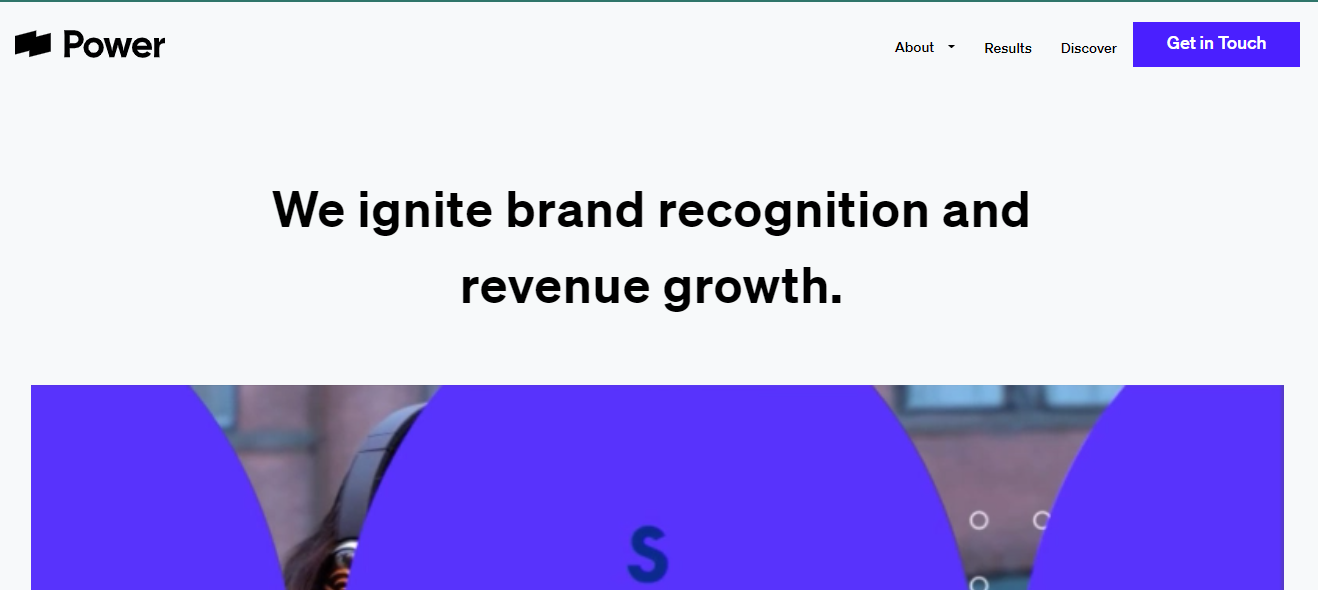 This company lives by a specific set of rules: finding solutions instead of dwelling on a problem, maintaining autonomy and freedom, always innovating, embracing change, and always going above what is strictly necessary. Their work reflects these mantras.
Pros: Their strategies can enhance every stage of their client's funnel and hit every milestone of their customer's journey. Additionally, they provide a specialized team of niche experts, a project manager, and a CMO.
Cons: With a team of over 250 people, a highly-tailored approach to working with your business might be difficult to achieve.
12. Growthcurve – Digital Marketing Company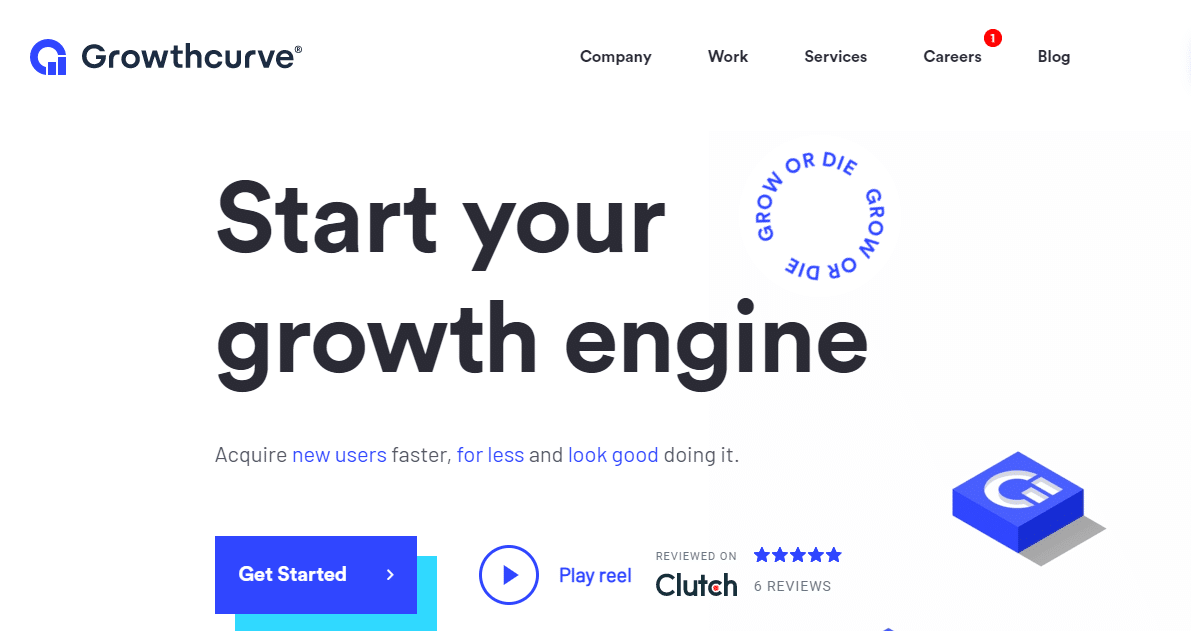 The people at Growthcurve define themselves as an elite team of creatives, engineers, hackers, and quants, changing the way companies grow. They can work as a full-stack marketing department, or as an extension of a business' own internal marketing team. 
Pros: All their talent and resources are focused on growth marketing, and they have their very own platform for customers to check their growth metrics on demand.
Cons: Prior clients wish they could have pitched more of their own creative ideas during the process, and believe they could've gotten more speed in their interactions.
Wrapping Up
Well, that's all for this piece! I hope I've inspired you to search for the perfect digital marketing company for your business 😃
While choosing an agency can be difficult, it's certainly worth the effort. There are many companies out there, and each of them is unique and highly effective in its own way. It's just a matter of picking which one adapts best to your goals and budget. The research is already done for you!
As a final piece of advice, I recommend you look at their websites to find out more about their values, look at their portfolios, and ask for a free quote. I'm sure you'll find the ideal one on this list!